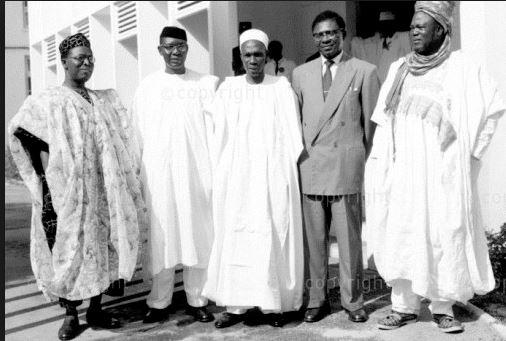 * Laments neglect of Sardauna's 89-yr-old driver, Ali Mota by northern govs
Senator representing Kaduna Central District, Shehu Sani, on Monday, decried that the name of the late Premier of Northern Nigeria and the Sardauna of Sokoto, Sir Ahmadu Bello, has come under use for political gains and very little to preserve his legacies.
Sani during a visit to Ali Sarki, the 89-year-old official driver of the Sardauna of Sokoto, expressed worry over the neglect of the driver by the 19 northern State governments.
Senator Sani, who is the Chairman, Senate Committee on Foreign and Domestic Affairs, and Vice Chairman, Senate Committee on Foreign Affairs, said associates of quality politicians like the Sardauna, Akintola, Azikiwe, Awolowo, and others, should not be neglected by governments of the day but should rather be accorded with due honour after serving the Premier and the region.
He lamented that instead of Nigerians, particularly, Northerners, to preserve Sir Ahmadu Bello's legacy for prosperity, they are busy using his name for cheap political gains.
Sani said, "Look at Sir Ahmadu Bello's driver, Ali Sarki Mota, he drove Sardauna to every official function. He witnessed his killing by soldiers, but today, at 89 years old, he is being neglected by governments of the region.
"Driving is a noble profession, and Alhaji Ali did it to the best of his knowledge by serving Sardauna to the best of his ability and love for the profession.
"Sardauna's name should not be a launch pad for politicians to use at elections, rather they should emulate his selfless services to the people of North in particular and Nigeria in general.
"Sardauna lived and died for Nigeria, his life should continue to be celebrated by the people. If we have the likes of Sardauna, Awolowo, Nnamdi Azikiwe, stealing in government will not be possible, but our political elites have turned politics into money making ventures".
Meanwhile, Alhaji Sarki Mota expressed gratitude to Senator Sani for remembering him and prayed God to bless the Senator with whatever he desired to achieve in his life time.
The 89-year-old man said, "Even though I am not a politician, I have been hearing about Senator Sani, without coming face to face with him, but thank God we are meeting face to face today, and I thank him for the visit."