No successful dialogue with Kanu in detention –MASSOB
Rivers govt bans pro Biafra protest
Njiko Igbo urges Buhari to release detained Biafran agitators
Ohanaeze disowns Radio Biafra Director, condemns medium's hate speeches
By Emeka Mamah,   Jimitota Onoyume,  Vincent Ujumadu & Chimaobi Nwaiwu
There were indications yesterday that lingering rift within the leadership of the Ohanaeze Ndigbo and that of the South-East Governors' Forum may be hampering opportunities for Igbo leaders to take a collective position on the recent wave of pro-Biafra protests taking place in parts of the area.
Moreover, according to competent sources, Igbo leaders are also said to be in a fix on what to do about millions of the youths from the South-East agitating for a sovereign state of Biafra following what they described as marginalization and discrimination by "the owners of Nigeria."
The apex Igbo socio-cultural organisation, Ohanaeze Ndigbo is enmeshed in crises, with Enwo Igariway and Ralph Obioha leading different factions of the group.
Also, the South-East Governors' Forum, which met frequently when Mr. Peter Obi and Chief Theodore Orji, former governors of Anambra and Abia states held sway as chairmen at different periods, appear to be in limbo.
The governors, who had been  at logger-heads over where the forum should hold its meetings, with Okorocha insisting on Owerri while his colleagues argue that Enugu remains the headquarters of the South-East and should serve as venue.
It was also gathered that the governors with the exception of Willie Obiano of Anambra State, had been bogged down with court cases challenging the validity of their elections, thus preventing them from taking special interest in the affairs of the forum and Ndigbo in general.
Secretary General of Ohanaeze Ndigbo, Dr Joe Nwaorgu, declined comments on the issue when Vanguard cornered him at the national secretariat of the association in Enugu, yesterday.
However, Ohanaeze Ndigbo has not met for a long time to discuss issues of marginalization, appointment of ministers and other officials of the Federal Government, among others, as Igariway, from Ebonyi State, who had since completed his tenure, was accused of still clinging to the position instead of giving way for Enugu State to produce the next president of the association, based on the group's rotation of offices sharing formula.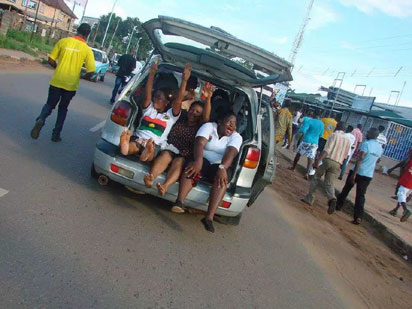 In an apparent move to give a semblance of existence of leadership for the Igbo, a former National Secretary of Ohaneze Ndigbo, Professor Ben Nwabueze, had since formed the Igbo Leaders of Thought, who met in Enugu recently.
Some members of the Nwabueze- led Leaders of Thought include Professor Lawrence Ocho, Col. Hyacinth Chukwuka (rtd), Major Goddy Onyefuru, Chief N. O. Izuako and Col. Ben Gbulie (rtd).
Others include Chief Chris Okoye, Professor Ike Oluka, Bishop Obi Onubogu, Professor Chiweyite Ejike, Justice G. U. Oniniba, Professor Chukwuemeka Ike, Senator Anyim Ude, Evangelist Elliot Uko, Prince Emeka Onyesoh and Chief Enechi Onyia, SAN, among others.
Nwabueze's group blames the crises facing the country on lack of what he described as true federalism and marginalization, and not corruption or Boko Haram, among others.
A former Minister from the South-East, who spoke on condition of anonymity, described marginalization of Ndigbo in the security forces, Police, Customs and Immigration, among others, as main reasons for the agitation.
However, the President of Igbo Youths Movement, IYM, Evangelist Elliot Ukoh, who spoke on the issue, attributed agitation for Biafra to what he called unfair treatment of Ndigbo.
According to him, "the feeling among our youths is that Nigeria has been unfair to the Igbo and Ndigbo believe that they will never get justice in Nigeria.
"They believe for example that the JAMB cut-off marks are skewed against them because they get higher marks and, get dropped for northerners who score lower grades in the name of federal character.
"They have no jobs because of quota system which ensures that people are given jobs because of where they come from and not based on merit or competence.
"They are frustrated and therefore, the agitation for Biafra becomes an option. The older ones are more cautious.
"The military leaders like Generals Yakubu Gowon, Olusegun Obasanjo and Muhammadu Buhari, among others, who designed Nigeria want the country to remain the same.
… No successful dialogue with Kanu in detention —MASSOB
A faction of the Movement for the Actualization of the Sovereign State of Biafra, MASSOB, said yesterday that the much- publicized meeting scheduled to take place in Owerri, Imo State, could not hold because of the continued detention of the director of Radio Biafra, Mr. Nnamdi Kanu.
Director of information of the faction, Mr. Uchenna Madu, in a statement, yesterday, said  the continued protests by pro-Biafra groups in some cities in the South East and South –South did not create a conducive atmosphere for such a meeting to take place.
Madu's statement read: "We support the meeting of the South East governors and Ohanaeze Ndigbo, with pro-Biafra groups to douse the tension, but we believe that such a meeting cannot take place while Nnamdi Kanu is still in detention.
…Rivers govt bans pro-Biafra protests, gatherings
Meantime,Governor Nyesom Wike in a state wide broadcast, Tuesday night, said the state cannot continue to remain a ground for the illegitimate demand by the pro-Biafra agitators, stressing that he took an oath to defend the sovereignty and unity of Nigeria, which he will not compromise.
The governor also alleged in his broadcast that most of those that protested in the state under the aegis of Indigenous People of Biafra, IPOB, were mainly from neighbouring states.
"While individuals and groups are free to exercise their freedom of expression, they must do so peacefully and strictly within the bounds of the constitution of the Federal Republic of Nigeria. No individual or group has the right, whatsoever, to disturb public peace and order, threaten the safety of the public and create fear and an atmosphere of insecurity in the state or any part thereof.
"Consequently, after due consultations with the members of the State Security Council, and in exercise of my constitutional responsibility to preserve the safety, security and corporate integrity of the Federal Republic of Nigeria, it is hereby ordered that all forms of street protests, demonstrations, rallies or unlawful gatherings associated with the agitations for the secession of any group from the Federal Republic of Nigeria are banned in Rivers State.", he said,
…Army/Police take over Gambia Bus Stop Area of Mile Two
To drive home his point, soldiers were deployed yesterday morning to maintain peace around Gambia Bus stop area of Ikwerre Road.
At about  10a.m.  the fierce looking soldiers positioned their patrol vehicles on Gambia street and other streets connecting Ikwerre road in the area. Vehicles were seen driving slowly through the Gambia Bus stop portion of Ikwerre road while pedestrians raised their hands in surrendering position as they walked past the soldiers.
Police Public Relations Officer, DSP, Ahmad Muhammad  had not been responded to the text message sent to him  at the   time of filing this report.
But the Chairman of Arewa Consultstive Forum in the state, Usman Ibrahim Tudawanda alleged yesterday  that the pro- Biafra protesters attacked Hausa in Eleme and Gambia Street in Diobu area of the state.
…Group calls on Buhari to release detained Biafra agitators
In another development, Igbo leaders under the aegis of Njiko Igbo Forum, NIF, yesterday, asked the Federal Government to release all detained Biafran agitators including Nnamdi Kanu and Benjamoin Onwuka immediately and unconditionally.
However, former Chief Judge of Enugu State and one time President General of Ohanaeze Ndigbo, who is also being presumed to be the founder of Indigenous People of Biafra, IPOB, Justice Eze Ozobu has denied knowing or ever seeing the Director of Radion Biafra, Mr. Nnamdi Kanu.
Eze Ozobu who was reacting to the IPOB constant protest in the South East and South South Geo-political zones said that  the incarcerated Radio Biafra Director is not known to him.
Also reacting, the Director General of Igbo Mandate Congress, IMC, Rev Obinna Akukwe,condemned the hate speeches associated with Radio Biafra, saying it promotes hatred and is not good for a developing nation like Nigeria.