*Biafra agitation is madness – Ohaneze
BY Vincent Ujumadu & Francis Igata
The Movement for the Actualization of the Sovereign State of Biafra, MASSOB, has directed all Igbo living outside Igbo land to start returning home and re-establish their businesses and investments in the South-East.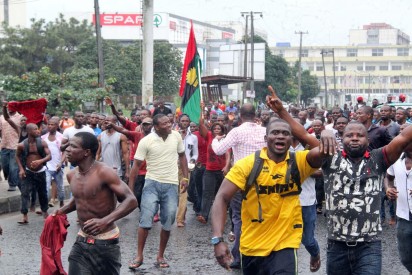 Decrying what he described as the nonchalant attitude and insensitivity of many Igbo people residing in northern and western parts of the country the MASSOB National Director of Information, Mr. Uchenna Madu, said that, "we have decided and promise to provide adequate security for lives and property in Igboland.
MASSOB shall defend Igboland with our blood, valour and enthusiasm. It is our unflinching service to our father land.
"MASSOB has vowed to stop kidnapping, armed robbery and other criminal tendencies in Igbo land because there is no place in Nigeria like Igbo land.
"Nigeria is a state where others are first class citizens but treat the Igbo as second class citizen, a state where others are born to rule but treat the Igbo as perpetual outcasts, a state where state policies deliberately deny Igbo land critical developmental infrastructure.
"Nigeria has vowed to continue to be a state where prejudice, tribalism, exclusion and hate are elevated while nation building is ignored, a state where it seems the only logic for unity is to share oil resources and not on the basis of consent, mutual respect, fraternity and brotherhood.
"Today in Nigeria, true nationhood has remained elusive to Nigeria which still remains in perpetual strife and ever increasing crisis since independence.
Thëse undeniable realities are the reasons the Nigeria state is afraid of Biafra which represents the truth they cannot legitimately counter."
But reacting to the spate of protests by pro-Biafra groups, the Ohaneze Ndigbo, the apex Igbo socio-cultural organization, dissociated itself from the activities of the agitators who have been protesting in many cities in the South East and South –South.
Ohaneze said that, "Biafra died in 1970 with the surrender by General Philip Effiong, to the Nigerian troops."
Addressing reporters in Awka yesterday, Chairman, Forum of State Presidents of Ohaneze in the seven Igbo-peaking states, Dr. Chris Eluomunoh, said that no right thinking person would support what he called the madness by some youths, who were being deceived to engage in something they cannot finish.
He said, "you will notice that Ohaneze has been silent on the issue of Biafra insurgency though the youth wing of Ohaneze has been speaking on it.
Ohaneze, as the Igbo cultural group, cannot support Biafra and we dissociate ourselves from it totally.
"Igbo people have contributed so much in the development of Nigeria and we cannot allow some people to jeopardize the lives and efforts of millions of Igbo people residing in all parts of Nigeria.
"We believe that anybody who has any issue to settle with the federal government should use dialogue and that is why we participated in the last National Conference.
"No sane Igbo person would want to witness a repeat of the kind of thing that happened during the Nigeria civil war.
"Ojukwu, who led the Biafra war, returned to Nigeria from exile and contested elections in Nigeria which shows that he was fully integrated in Nigeria and was a full-fledged Nigerian before he died."
Eluemunor denied insinuations that politicians of Igbo extraction support the Biafra agitation noting that support for pro-Biafra groups comes mainly from outside the country.
He admitted however that the agitations may not be unconnected with the dearth of infrastructure in Igbo land and pleaded with President Muhammadu Buhari to address the infrastructural decay in the area.
Subscribe for latest Videos