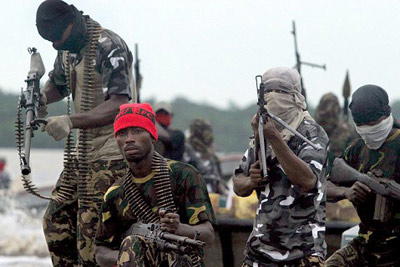 File…Militants
The Police Command in Akwa Ibom on Monday confirmed the attack by militants at T-junction in Itu Local Government Area which occurred on Saturday.
The Police Public Relations Officer in the state, ASP Cordelia Nwawe, confirmed the attack but denied the reported casualty figure.
Nwawe said that the command had already mapped out strategies to curtail such attacks by militants in future.
She said the command had also reached out to commands in other states to block their waterways against militants' infiltration into Akwa Ibom.
"While there was militants attack at the T-Junction Market in Itu, I do not agree with the number of casualty.
"As soon as the incident happened, the police were quickly mobilised and repelled the attacks.
"This is a warning to all Nigerians; if you hear any attacks by armed robbers, do not run, lie flat on the ground to avoid stray bullets," she said.
However, a resident of the area, one Moses Phillips, told the News Agency of Nigeria (NAN) that the gunmen suspected to be militants killed two middle aged women and injured many others at the market during the attack.
He said that the militants, dressed in military camouflage, emerged from the river on two speed boats loaded with machine guns and other ammunition and struck during market hours at 8 a.m.
Philips said that as soon as the militant boats berthed at the river bank, they opened fire indiscriminately.
"The militants ordered cyclists and other young men and women to carry all the things they had stolen into their boats.
"The items they stole were essentially food items like rice, garri, fish, crayfish and palm oil.
"They also carried fuel in drums that they will use in the creeks. It was unfortunate that the two women died.
"The militants did not shoot at the crowd; they shot only into the air, but what I believe is that the bullets that killed the women, were stray bullets," Phillips said.
He said that policemen and soldiers arrived the scene after the bandits had left. (NAN)