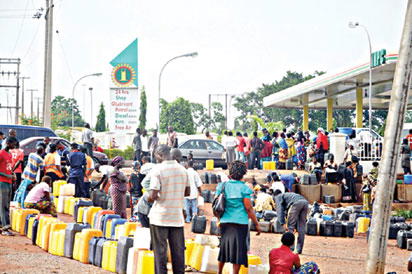 Fuel crisis
By Chidi Nkwopara
OWERRI—Price of premium motor spirit, PMS, yesterday hit an all time high of between N140 and N170 per litre, following the worsening scarcity of the petroleum product in Imo State.
Investigations also revealed that transport fare had doubled since the current price hike was introduced by petroleum marketers in the state.
With the exception of the Nigerian National Petroleum Corporation, NNPC, mega station situated along Onitsha Road and Ebere Links located along Port Harcourt Road in Owerri, all the other filling station operators claimed they had no PMS to sell to the suffering motorists.
Vanguard investigation revealed that while the NNPC mega station strictly maintained the official pump price approved by the Federal Government, all the other filling station slammed whatever they liked on motorists.
The long queue of vehicles waiting to get the extremely scarce commodity at the NNPC mega station yesterday, stretched from the Onitsha Road location of the station to Nworie River along Maria Assumpta Road.
A commercial vehicle driver, who simply identified himself as Rufus, lamented that vehicle owners were paying high fees for a litre of petrol.
"Some filling stations in Owerri that had fuel for sale, sold it at between N140 and N150 per litre, but the story is different outside the state capital, as the product goes for as high as N170 per litre", Rufus fumed.
The driver expressed regret that those charged with responsibility of regulating, monitoring and enforcing the price regime of petroleum products, have sadly abandoned their job.
In his own reaction, a youth leader in Owerri, Mazi Damian Nze, expressed worry that "unless something very urgent was done to redress the ugly situation, we may end up having a bleak Christmas and New Year festivities in the state."