By Sola Ogundipe
Majekodunmi Fasheke, aka Majek Fashek, is a household name in Nigeria and many other parts of Africa. For several years, he was the rave of the nation's fledgling entertainment industry. His songs were creative, rational and delightful, but everything changed not too long thereafter when he suffered a mental breakdown.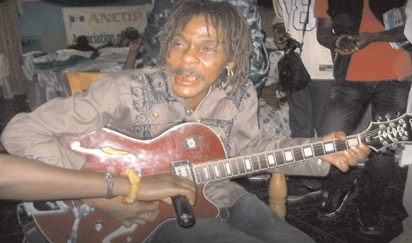 Majek had an encounter with schizophrenia, but has been through series of therapies and is  determined to prove that he is truly on the rebound as shown by his performance at this year's Felabration in remembrance of the late Afrobeat maestro, Fela Anikulapo-Kuti.
Following his intensive rehab in the US and Nigeria, the "Send Down The Rain" and "So Long, Too Long" crooner is almost completely back on track.
On Wednesday, his appearance at the main auditorium of the University of Lagos, Akoka, elicited excitement. The event was the 46th Annual General Meeting and Scientific Conference of the Association of Psychiatrists of Nigeria. The theme was "Mental Health as a Driver of Positive Change".
Local and international psychiatrists as well as other mental health specialists gathered to discuss the relevance of mental health in the current Nigerian context. Majek, who put up appearance as special guest, stole the show. Not even the scholarly presentation by Prof Ibidapo Obe, who gave the keynote lecture, could eclipse the reggae legend's presence.
Dressed in the same oversized jacket, jeans and signature cap that has been the hallmark of his musical career over the years, Majek stepped up to the podium in his typical "rumba style" walk, exuding a semblance of the aura of confidence and appeal with which he held sway in the 80s.
But just before the rehabilitated Majek took the microphone, his psychiatrist, Dr. Vincent Udenze, the CEO of Synapse Services, an Abuja-based centre for psychological medicine that helped in his rehabilitation, observed that the reggae legend was undergoing serious rehabilitation.
Udenze spoke glowingly about the reggae star. "He is really on the rebound and has become an advocate for mental health rehabilitation."
Majek gave a short but powerful speech, topping it with a rousing performance of his famous hit track *Send Down The Rain.*
Describing people living with mental illness as geniuses whose talents should never be neglected, Majek admitted being helpless with his situation at a stage, requiring him to seek expert help.
He noted that it was normal practice for the mentally ill to seek rehabilitation but abnormal to be allowed to roam the streets without care.
He tasked the Federal Government to step up rehabilitation of mental health patients in the country. Even as he and Ibidapo-Obe called for the introduction of mental health screening for politicians and public health officials in general, he was emphatic that government should not ignore mental health patients because many of them are geniuses.
"Mental health is very important," he stressed repeatedly. "Mental health is very important in the lives of people and the nation. It (mental health) should not be the yardstick to appreciate or disregard people. Government should not ignore mental health and should look into rehabilitation of mental health patients as most of them are geniuses with great potentials and talents".
Majek was emphatic about the need to create a system to manage or rehabilitate mentally ill people while creating avenues to mitigate mental health challenges in the nation in general.
The most commonly diagnosed mental illness in Nigeria is mood disorders. Misuse of psychoactive substances is also significant while neuropsychiatric disorders contribute towards the total national burden.
It is fact that one out of every four Nigerians will have a mental health disorder during their lifetime even as at least 25 million people who would benefit from mental health services in Nigeria are not being reached.
Earlier, the Acting Medical Director, Federal Neuropsychiatric Hospital, Yaba, Dr Richard Adebayo, urged the Federal Government to institute a Mental Health Act. He said mental health is integral to the stability of every nation and that in the Nigerian context, much of the negative socio-economic issues have severe mental health concerns.
"Health impact is unquantifiable; there is no health without mental health, but it is regrettable that there is no workable and realistic policy direction, and no mental health Act to guide us and protect the rights of our patients."
The aim of the conference was to facilitate the change process, drawing experience from globalisation as to how change in governance can affect the mental health, productivity, quality of life, allegiance of the citizenry, etc.
Subscribe for latest Videos