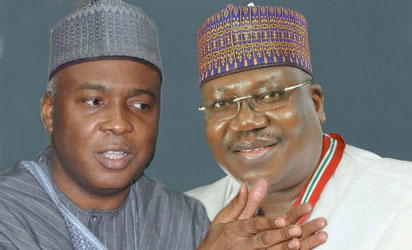 Senator Bokola Saraki and Ahmad Lawan
By Henry Umoru & Joseph Erunke
ABUJA – INDICATION emerged yesterday that the sharp disagreement among senators loyal to the Senate President, Bukola Saraki and Senator Ahmad Lawan, who contested against him in the Senate presidency seat, may have been laid to rest.
The indication that the pro-Lawan senators may allow peace to rein henceforth came following the swearing in of Senator Lawan among others as chairmen of the Senate standing committees, by the Senate President, Bukola Saraki, yesterday.
Lawan, who was approached for comment by reporters, after the inauguration of ten committees, among which was the Senate Committee on Defence, which he chairs, declined to respond, saying "I am on retreat as far as press interview is concerned."
Initially, there were insinuations that Lawan and his senator colleagues, who have not hidden their opposition to Saraki's emergence as Senate President, may decline their offers as chairmen and members of the various committees they belong to.
Recall that shortly after the Senate President announced the 65 standing committees two weeks ago, Senators Kabir Marafa and Sulaiman Hunkuyi, both representing Zamfara Central and Kaduna Central Senatorial zones, under the ruling All Progressives Congress, APC, openly opposed it and vowed never to recognize the committees.
The senators, who were evasive on whether they will turn their membership of the committees they variously belong to, called for outright cancellation of the committees, as they alleged that due process was not followed in their composition.
Earlier, while inaugurating the committees, the Senate President, Bukola Saraki, urged their members to take their assignments seriously.
He said their choices as members of the various committees assigned to, were necessitated by their legislative competence, besides their background experience and knowledge.
"In selecting members of your committees, your background experience, knowledge, passion and the highest standard of legislative competence that will help the 8th Senate achieve its legislative agenda was compelling aside the need for balance.
"You have been chosen also because we have a great task ahead, to think outside the box. I expect that you will work to affirm this choice by discharging your duties diligently. In this regard, regular attendance to meetings cannot be overstressed, "he emphasized.
The ten committees inaugurated yesterday, were those of Defence, Air Force, Police Affairs, Navy, Agriculture and Water Resources.
Others were the committees on Army, Niger Delta, Tertiary Institutions & TETFUND and Media and Publicity.
The Senate President had earlier on Wednesday, inaugurated seven committees, during which he warned that he would not hesitate to deal with members that derailed in the course of their assignments.
This was even as he said the Ad-hoc Committee on Legislative Agenda would be charged with the responsibility of monitoring the performances of the committees.
He urged them to be innovative in the discharge of their oversight functions, adding that they must strictly adhere to ethical standard in the discharge of their duties.
The committees inaugurated were those of Appropriation, Finance, Banking, Insurance and other financial institutions, Independent National Electoral Commission (INEC), Public Accounts, National Security and Intelligence, and Communications.
A total of 65 standing committees were constituted with their chairmen by the Senate President, Senator Abubakar Bukola Saraki, last week.
Saraki charged the committees' chairmen to hit the ground running in view of the need to reposition the economy.
The chairmen include: Senator Danjuma Goje for Appropriation, Senator John Enoh for Finance, Senator Rafiu Ibrahim for Banking, Insurance and other financial institutions, Senator Abubakar Kyari for Independent National Electoral Commission (INEC), Senator Andy Uba for Public Accounts, Senator Sha'aba Lafiagi for National Security and Intelligence, and Senator Gilbert Nnaji for Communications.
"Senate will continue to support the committees particularly in terms of funding. We are also assuring government institutions of readiness to work with them in order to deliver the dividend of democracy to Nigerians," Saraki said.
"INEC Committee should ensure that the gains of democracy are not eroded. They must ensure that there is improvement in our elections moving forward. For the Finance Committee, Nigerians are expecting us to lead the fight against financial recklessness and block leakages.
"The Committee on Security should ensure that security agents are adequately catered for to ensure that the mistakes of the past are not repeated. I want to assure Nigerians that the Senate will not relent in its effort to ensure that Nigerians enjoy the dividends of democracy," he added.