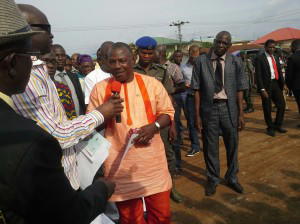 Governor Ayodele Fayose during the payment of compensation to property owners whose properties will give way for the dualisation of the Ikere-Ekiti Road.
By Rotimi Ojomoyela
Ado-Ekiti—No fewer than 2,000 traders at Erekesan market in Ado-Ekiti yesterday rushed to beat the deadline given by Governor Ayo Fayose to vacate the market or face forceful eviction.
This comes barely four days to the planned demolition of the popular market, also known as Oja-Oba by the state government to give way for a modern one.
Traders at the market which was located at the centre of Ado-Ekiti, the Ekiti State Capital were seen moving their wares out of the market to a temporary one situated about a thousand metres away from the old one.
Sources close to the market revealed that government has also deployed town criers to the market to sensitize the traders about the looming exercise and the need to move out ahead of time in order to avoid forceful eviction.
Governor Fayose had in a state broadcast on Tuesday night declared that there was no going back on the demolition exercise slated to commence on  November 8.
The governor, who said he had already paid compensation to the traders, consequently asked them to vacate the market in their own interest and relocate to another existing market at Awedele area of the state capital.