By Dayo Johnson
Akure – THE leader of the Pan Yoruba socio-political group, Afenifere, Pa Reuben Fasoranti has resigned his appointment with immediate effect citing old age.
He took over the leadership of the group from the late Chief Abraham Adesanya over ten years ago.
According to a letter personally signed by him in Akure Pa fasoranti said he has since stopped being the Chairman of the foremost Yoruba organization.
The letter was addressed to the Secretary General, Bashorun Seinde Arogbofa, leaders of the group including Chief Ayo Adebanjo, Sir Lanihun Ajayi, Chief Olu Falae, Chief Supo Sonibare and all state Chairmen of Afenifere.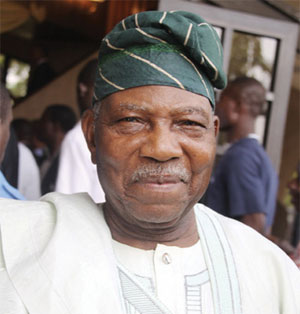 The letter said that "our organization, Afenifere was formed in 1951 under the leadership of our leader; Chief Obafemi Awolowo. The organization was formed to serve as an umbrella to be used to actualize the dream of a great nation and the Yoruba race.
"Over the years, Yorubas have tried to focus on a common goal. Chief Awolowo tried to ensure the oneness of our people with a lot of efforts notwithstanding the challenges he faced in the process. Unfortunately, he passed on without actualising this dream.
"I joined Afenifere from inception with the following leaders of our race, Pa Onasanya, Alhaji Ganiyu Daodu, Pa Abraham Adesanya, Chief Ayo Adebanjo, Sir Olanihun Ajayi, Chief Sam Sonibare, Chief Bola Ige, Chief Wunmi Adegbonmire and so on.
"The mantle of leadership fell on Late Pa Adekunle Ajasin and subsequently Pa Adesanya and then my humble self. As events have been unfolding in the past few years, the focus and goals of the founding fathers of our great organization 'Afenifere' were gradually eroded.
"This therefore made it herculean task for our members to work in unity. Several efforts were made to ensure the actualization of the Afenefere goals, but it appeared that we have not succeeded in achieving this. This is basically due to reasons best known to our members individually.
"Let me state clearly that the issue of adoption of the National Confab report had always been the focus and goal of our people in Afenifere even long before the National Confab was set up.
" The support of a leader who promised to implement this report was therefore not a mistake and inevitable despite all public insinuations.
"Considering my age, efforts and selfless dedication to my country, my state (Ondo), my political parties, my past leaders and my members in Afenifere both in Nigeria and in diaspora, I hereby wish to inform you all that I have decided to step aside as leader of our great organization Afenifere.".
However, some members of the group have expressed concern over the decision of the leader of the group.
Vanguard gathered that all may not be well with the group hence the reason why the octogenarian leader decided to opt out before the bubble burst.
The secretary of the group Basorun Sehinde Arogbofa could not be reach to comment on the development.