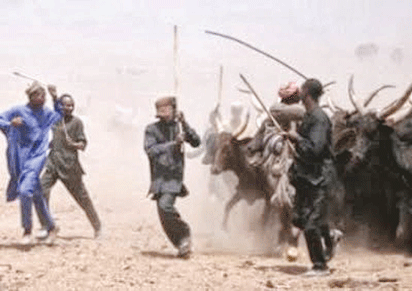 Herdsmen
Ibadan—The relative peace that existed between farmers and Fulani herdsmen in Oyo State  was ruptured yesterday as hundreds of farmers in Ido Local Government Area of the state staged a peaceful protest over continued invasion and destruction of their farmlands by the cattle rearers.
Dissatisfied by alleged non- response to their persistent reports to the security agents, the angry farmers have threatened reprisals.
Numbering about 400, the farmers mobilised themselves from villages in Ido Local Government and called on the state government to do something very urgent to check the alleged excesses of the rampaging herdsmen who allegedly inflicted machete cuts on the helpless farmers after destroying their farms.
The villages that assembled at Omi Adio where the protest started from include Onikanga, Mabolese, Alatori, Agbetu and Olorode.
Their spokesperson, Alhaji Asimiyu,  the Secretary, Osho Forestry Reserve in the Local Government Area said some of the farmers that were attacked came from Adedapo, Olorode, Keji, Aboke, Pelu, Alagbe, Gbagba Elewure and Areyinjetu.
He further explained that all their crops such as cassava, maize, yams, tomatoes, potatoes, pepper and vegetables had been ruined by the cattle rustlers.
He said; "Many of us have been ruined following the incessant invasions of our farms by the grazing cattle of these Fulani herdsmen, as we have no other means of livelihood," he lamented, as he narrated the ordeals of the agitated farmers to newsmen.
"This year alone, some of our members were matcheted on their farms by invading Bororos while nothing seems to have been done by the authorities to checkmate them."
The Commissioner of Police in the state, Mr. Leye Oyebade  brokered a peace meeting between the two parties and warned them sternly to avoid any action that could rupture the agelong relationship between them.
Yamma and Sarkin Sasa, Alhaji Haruna Maiyasin said he would intervene, pleading  with the aggrieved farmers to be calm and allow him to intervene into the matter.