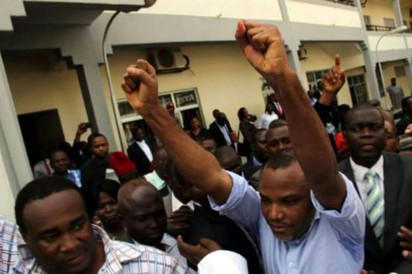 Nnamdi-Kanu in court
The Movement for Actualization for Sovereign State of Biafra (MASSOB), on Wednesday, expressed dissatisfaction with last Sunday's meeting held by South East Governors and other Igbo leaders at the Enugu State Government House in an attempt to end ongoing protests by members of the Indigenous People of Biafra (IPOB) and MASSOB, over the continued detention of the Director of Radio Biafra, Nnamdi Kanu
After the meeting, Governor Rochas Okorocha of Imo State, who spoke to reporters on behalf of the Igbo leaders, which included present and past governors, ministers, national assembly members, said the meeting resolved to set up a committee to dialogue with the pro-Biafra agitators.
But in a statement on Wednesday, MASSOB rejected the resolutions, arguing that it did not address the major reason for the protests, which it said was the continued detention of Kanu.
National Director of Information, MASSOB, Uchenna Madu, said the only way to end the crisis is the unconditional release of Mr. Kanu.
The separatist group also said it was worrisome that South East governors met without their counterparts from the South South region, which also witnessed some protests.
Madu said: "MASSOB is not satisfied with all the meeting of Igbo leaders on Sunday because of no seriousness on the plight of Nnamdi Kanu," Mr. Madu said.
"How can revered Igbo leaders waste a whole day in a marathon meeting without discussing our simple demand of Nnamdi Kanu's release?
"Are they afraid of Northern oligarchy, western alliance with north or President Buhari? The governors, Ohaneze and other Igbo leaders have proved that they're not representing the interest & demands of Ndigbo.
"They have shown their soft mind, inferiority complex and loyalty to our oppressors, we shall prove to Nigeria that the Igbo governors, national assembly members, other Igbo leaders are not truly in charge of affairs in Igboland.
"DSS is buying time for long incarceration of Nnamdi Kanu to impress Buhari and Northern political cabals that they can frustrate Biafra revolution.
"Long incarceration of Nnamdi Kanu by DSS will only motivate, inspire and increase the moral of Biafran agitators. How long shall they continue to detain an innocent man who already commands the massive respect of Ndigbo even in detention?
"MASSOB and IPOB members are not demonstrating or protesting against infrastructural decay in Igboland or non inclusion of Igbos in major political appointments but the release of our brother, Nnamdi Kanu, who represents the genuine desire of the people eastern region.
"Other demands and clamour of Ndigbo as a result of the current political tension are good but major one now is the release of Nnamdi Kanu."