•Asks Buhari to call him to order
For forcefully executing his privatization programme in Imo State, Governor Rochas Okorocha has incurred the wrath of former lawmakers and council chairmen from the State who described his actions as "barbaric and incredible", just as they called on President Muhammadu Buhari to call the governor to order.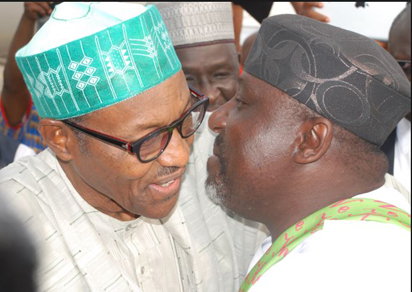 In a statement at the weekend by the former lawmakers and council chairmen, popularly known as Forum of Former Imo House Members and Council Chairman (FIHOC), they said it was shocking to learn that in spite of public outcry against the concessioning of Imo public enterprises by Governor Okorocha, the governor has taken a step further into the abyss of dictatorship by using his Imo Security Network to forcefully eject workers from health Centres and hospitals, to enforce his privatization programme. The workers were said to be resisting his privatization of these public institutions.
The statement signed by the group's Director of Public Communications, Hon. Ray Emeana, said it was sad that in spite of good counsel from concerned members of the public, including FIHOC, members of the clergy and notable public figures, against the privatization exercise, the Governor did not relent but instead went ahead to force his way through without due process.
FIHOC's statement regretted that although it had earlier advised the governor to subject the matter of privatization to the decision of the Imo public and if approved by them to follow due process in the exercise, the governor ignored their call and went ahead with a privatization process that is clearly illegal and self-serving.
The statement added: "It is becoming increasingly clear to us that Imo people are up against a stone age government that believes in barbaric tactics and totalitarianism. What Governor Okorocha is doing in Imo State is clearly barbaric and incredible. We find it difficult to believe that Imo is still part of a democratic Nigeria where the rule of law reigns. Imo State government does not believe in the rule of law. It does not believe in due process. Its approach to everything is barbaric and totalitarian and we call on President Mohammed Buhari to call him to order before it is too late"
"Nothing moves the governor again. Even calls from highly placed clergymen for him to give account of the N26b bail out funds, which in spite of it he still owes huge salary arrears and pensions, has fallen on deaf ears. So too are pleas for him to constitute a cabinet as provided for in the constitution" the statement added.
It warned that Okorocha was plunging Imo State into darkness, noting that instead of a cabinet, Okorocha now rules with a laughable task force committees arrangement, numbering over 100 task forces, including a task force on traffic light and siren, adding that even more regrettable is the fact that House of Assembly members have abandoned lawmaking for appointments as task force chairmen.
FIHOC said President Buhari and even the National Assembly should call Okorocha to order soon enough before he turns Imo State into a "Banana state" in a democratic Federal Republic of Nigeria.