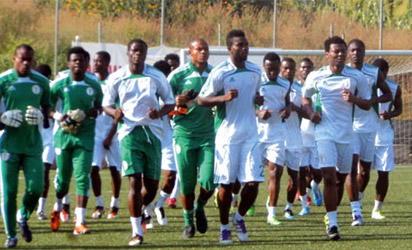 File Photo: JOGGING ••• Super Eagles players loosening up before training.
Lagos – A former National Assistant goalkeeper, Segun Oguns on Monday urged the present and retired National footballers and those in the Diaspora to identify with the newly formed Nigeria Players Union (NPU).
Oguns, a board member of the NPU, said in Lagos that the essence of identifying with the body was to create a platform for all ex-footballers to seek better welfare and improved opportunity for them on retirement from active football.
"Footballers in and outside the country, who are serving and have served the nation are supposed to be part of this union because this is a union created to bring us together.
"The idea is to reorganise and re-appraise the welfare of our players and create opportunity for members to fall back on, after their active days".
The former goalkeeper added that present players could have the opportunity of gaining knowledge from the retired senior colleagues that could improve their careers in their sport.
"We have notable footballers that can contribute immensely toward the growth of game in the country, especxially those that have been opportuned to play in clubs abroad.
"This group of players will share their experiences during our programmes and the young ones will meet and gain knowledge from their experiences,'' he said.
According to him, registration is open and they can obtain forms from the secretariat of the Lagos branch of Sports Writers Association of Nigeria (SWAN) at the National Stadium, Lagos.
He stressed that the union was working with the Nigeria Football Federation (NFF).
"The registration is open to national players who are passionate about the welfare of fellow players and the general improvement of football as well as maintaining cordial relations with the NFF as custodian of football in the country,'' he said.