By Michael Eboh
LAGOS — The Nigerian National Petroleum Corporation, NNPC, yesterday blamed the persistent fuel crisis on the continuous vandalisation of the System 2B pipeline at Arepo, sharp practices by oil marketers and the delay in the payment of outstanding subsidy claims to the marketers.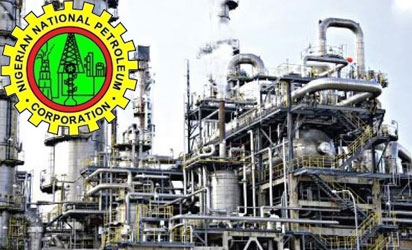 The NNPC in a statement in Abuja, after honouring the invitation of the Senate Committee on Petroleum Downstream, also stated that the Senate had given it a two-week ultimatum to end the fuel scarcity.
In a presentation to the Senate Committee, Managing Director of the Pipelines and Product Marketing Company, PPMC, a subsidiary of the NNPC, Mrs. Esther Nnamdi-Ogbue, stated that  Nigeria has lost a total of 531 million litres of petrol valued at over N50 billion to pipeline vandals between January and September, 2015, at the problematic System 2B Pipeline network which stretches from the Atlas Cove in Lagos to Ilorin.
Nnamdi-Ogbue explained that the losses, which chiefly accrued from the incessant hacking of the pipeline at the notorious Arepo to Mosimi axis of the pipeline artery, have made the task of providing seamless flow of petroleum products to retail outlets more burdensome.
According to her, despite the challenge posed by the unavailability of the vital System 2B Pipeline network, the PPMC has continued to ensure that the country remains wet with petrol through massive truck-out from depots in Lagos, Oghara and recently Calabar.
She, however, noted that the spirited efforts made so far by the corporation to entrench zero fuel queues across the country are being hampered by the activities of some unscrupulous marketers involved in hoarding, sharp practices and diversion of petroleum products for sale in black markets across the country.
She said: "We view this as a distortion to the economy and we have invited the DSS and the EFCC to take action."
Outstanding subsidy payments
Also speaking, Group Executive Director, Commercial and Investment on the NNPC, Mr. Babatunde Adeniran, told the Senate Committee that the fuel situation was exacerbated by the inability of oil marketers to meet their import allocation quota due to outstanding subsidy payments, thus creating a gap which PPMC has been working round the clock to bridge despite the extraneous challenges like hoarding and incessant pipeline hacking.
While Jamila Shu'ara, Permanent Secretary of the Ministry of Petroleum Resources and leader of the delegation, emphasised the need to build strategic reserve stock of petroleum products akin to the national grain reserves across the country.
Senator Uche Ekwunife, Committee Chairman, who  gave the Ministry of Petroleum Resources two weeks to ensure sanity in the supply and distribution of petroleum products across the country, however, acknowledged the efforts made so far by the NNPC to ensure unimpeded fuel supply across the country.