* As construction firms mull staff reduction
By Johnbosco Agbakwuru
ABUJA — NATIONAL President of Trade Union Congress, TUC, Comrade Bobboi Kaigama, said yesterday that five months after President Muhammadu Buhari assumed office, Nigerians were yet to feel the change mantra.
This came as Julius Berger Nigeria Plc announced plans to downsize its workforce due to government's indebtedness to construction companies in the country.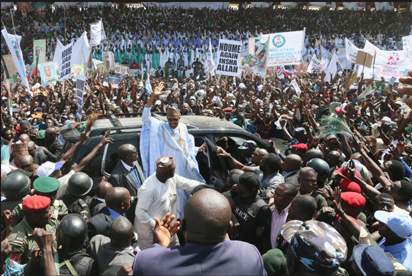 Kaigama, who spoke while addressing construction workers at the 10th Triennial National Delegates Conference of the Construction and Civil Engineering Senior Staff Association, CCESSA, in Abuja, said government should know that the change mantra of the ruling All Progressives Congress, APC, was not just going after corrupt officials.
According to him, for the change mantra to be meaningful in the country, there should be job security in the companies and security of lives and property. He said it was only when these were done that Nigerians would know that change had started.
He also said security should not be left to security agencies alone as everybody had roles to play in ensuring that lives and property were protected.
Managing Director of Julius Berger Nigeria limited, Engr. Detlev Lubasch, noted that going by the present economic realities in the country and the huge indebtedness construction companies were facing, such companies were unable to meet up with their financial obligations.
Lubasch, who was represented by a staff of the Human Resources unit, Moses Anietie, said: "Comrades, our industry is in dire straits, occasioned by non-payment for ongoing and already completed jobs.
"As you all know, the construction industry is majorly engaged by the governments: federal, state and local, with little patronage from corporate entities and private individuals. In view of this, any distortion in the income equilibrium of our major clients will definitely affect the income and cash flow of the construction companies
"As a consequence of this, construction companies are unable to sustain the existing structures in terms of meeting its obligations to staff and subcontractors. lt, therefore, became imminent that there must be staff reduction as well as other cost saving measures.
In his welcome address, the national president of CCESSA, Comrade Augustine Etafo, advised President Buhari to keep to his campaign promises and guard against appointing persons of questionable characters into his government.
Etafo, who is the Deputy President of TUC, said: "Nigerians have suffered greatly for democracy to come to stay. They must reap the benefits of democracy through good governance which we are expecting from the new government led by President Muhhamadu Buhari.
In his address, the chief host and Permanent Secretary, Federal Capital Territory, FCT, John Chukwu, noted that the nation's dwindling economic fortune was occasioned by the global fall in oil price which is the major source of foreign earning for the country.
Chukwu, who was represented by a director in FCT, Alfa Sadiq, said the lecture with the theme, ''Infrastructural deficit in Nigeria: The role of the construction industry," was apt as it was coming at a time the nation was confronted by severe dwindling resources, occasioned by the global fall in oil price.
He said: "the consequence of this financial challenge finds expression in the nation's inability to meet the infrastructural needs of the people, this explains why the lecture is not only apt but expedient as it falls in line with governments' creative thought of collaborating with partners through the Public Private  Partnership (PPP) concept in all facet of the nation's economy.
"While government has a responsibility to provide basic infrastructure to her citizens, the trend globally is the robust engagement of private sector in the development of nations.
"Nigeria cannot be left out in this global initiative hence her resolve to provide the enabling environment for private sector to strive. I therefore urge construction companies to lake advantage of this initiative to bridge the infrastructure gap in the country."