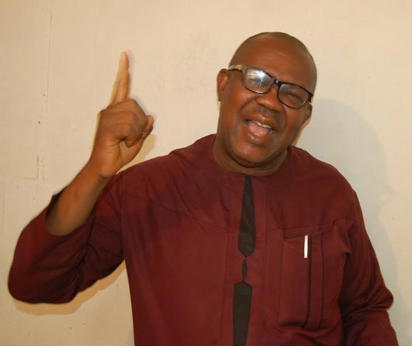 Uko
*Says re-living Biafra attractive to marginalised Igbo youths
*Opposes secession, wants Nigeria restructured peacefully
*Obasanjo is wrong on Biafra struggle
By Clifford Ndujihe
Founder of the Igbo Youth Movement (IYM) and Deputy Secretary of the Igbo Leaders of Thought (ILT), Evangelist Elliot Uko, in this interview, spoke on why re-living Biafra Republic is attractive to Igbo youths and the need to urgently restructure the country into true fiscal federalism among others.
What is your comment on former President Olusegun Obasanjo's recent statement that the people agitating for Biafra are criminals, miscreants and scammers?
For Obasanjo to say that is tragic. I don't know whether he's deliberately being mischievous because he should know that the agitation for Biafra is a potential threat, a big time-bomb, not just for the territorial integrity of Nigeria but also for peace in the entire West Africa. Any crisis in Nigeria will reverberate all over the West African sub-region. The refugee problem alone will cripple the economies of all the West African nations. No amount of peace-keeping forces from the United Nations will keep peace in Nigeria because of it's size and population. That is why it must be avoided at all cost.
The Biafran issue is not about Ralph Uwazurike, Nnamdi Kanu or any individual. I formed my first organization, as a teenager, Igbo Youth Congress, at Delimina Restaurant, 12 Adelabu, in Uwani, Enugu in 1981, 34 years ago. And I know that the most emotional and easiest formula to spark interest and followership among Igbo Youths is the dream to re-live Biafra Republic. They find it so attractive because they believe that not only is Nigeria drawing them backwards but also that they will never get justice in Nigeria due to the envy and hatred of some ethnic groups towards Ndigbo.
At one of our meetings, in the early 80s, we took a vote, and over 80 per cent of the youths voted that we should take up arms to fight for Biafra, 34 years ago.
Again, in Lagos, we were holding monthly meetings in my apartment at 36 Ajakaiye Street, Ikeja, 10 years later, in 1991, we took a vote, and over 90 per cent voted that we should take up arms and fight for Biafra. I've been organizing seminars and dealing with Igbo youth for decades, I know that the option of Biafra is so attractive, and it's a reality. It's not about Uwazurike and Kanu. In fact, those characters are merely taking advantage of a fact that is on ground, that Nigeria has been unfair to Ndigbo, to the extent that the new generation finds it unacceptable. So, the demand for Biafra is real. They are not miscreants. They are contributing their own money, fighting for what they believe in.
The people who are agitating for Biafra are in their millions. To kill them, you need to hire professional soldiers from across the world to help in killing them. And when you kill them, you have a problem of where to pack their corpses. If you want to imprison them, Buhari will have to build at least 500 to 600 new large prisons, each with a capacity of holding 7,000 to 10,000 inmates. Where will the funds to build enough prisons to contain the 7 to 8 million angry youths who are agitating for Biafra come from?
Obasanjo was deliberately misleading Nigerians. For Obasanjo to say that the millions of Ndigbo, spread all over the world, are miscreants and should be ignored is really pathetic. Our fault lines are deepening in Nigeria. The online stories express only hate and spread ethnic hatred.
The younger generation of Ndigbo are bitter about the structure of Nigeria. They believe that the structure is skewed against them, in politics, in education, in the provision of social infrastructure, and the agitation for Biafra is real.
Personally, I don't agree with them. I'm not advocating for secession, but I know that they are not miscreants because I've been talking with them for years. In fact, when Ralph Uwazurike visited me in August of 1999 at Toyin Street in Ikeja and told me that he would establish MASSOB the following week at 22, Ajidedun Street, Agunlejika, even though I didn't attend the event, as I was discussing with him, I told him that he was merely taking advantage of something that has been there in the minds of Ndigbo. Biafra is sacred to Ndigbo. Biafra is about blood, the blood of three million Ndigbo, some killed in cold blood in pogroms in the North; some died out of hunger and starvation; millions of children died of kwashiorkor; people who died in the battle field armed with only two bullets against a much larger and better armed army. It elicits emotion, and it's the major thing that you can use to manipulate Igbo people to cause trouble anywhere. It's real. Those who want Biafra are real. Obasanjo is wrong.
What is your take on the state of the nation?
We have always been in support of President Muhammadu Buhari. We are of the view that he has come to correct the ills of past governments. We support his government's determined efforts to crush the Boko Haram madness, and we ask him to keep up the momentum and tempo. We are in total support of his war against corruption. Those who stole this country blind must be made to pay, and they must return the looted funds. We have made our position clear and we are sure that President Buhari knows that if his war on corruption is not holistic, it will lose it's essence, and he knows that if it is selective, it will become a useless effort. So we ask him to remain committed to ridding Nigeria of corruption.
We also appreciate the fact that his presence as the leader of Nigeria sends a strong message to people in government that the leader will not condone corruption. We plead that he continues to maintain that stance, and maybe Nigeria would recover from the damage which corruption has done to our psyche. Corruption really is one of the major problems killing Nigeria.
These are part of the stand of the IYM on the state of the nation but we disagree with President Buhari on the agenda of his team that once you fight corruption and Boko Haram, Nigeria will become an El Dorado.
The fundamental problem holding Nigeria, which most governments have been dodging is how to restructure Nigeria along the lines of true federalism and see it grow into a viable and great nation. If we don't revert to true federalism we are in trouble. Now, the impact of the unresolved question on the nation is self-evident. Nothing is working. 10 to 15 years ago, two or three states could not pay salaries, 33 states could. Today, 22 to 26 states can't pay salaries, and about 10 or 12 states can. In the next 10 to 15 years, it means that none of the states will be able to pay salaries. As time goes on, more people will be born, the economy is stagnant, the price of oil is falling, and the population is growing. The unemployment market is swelling, graduates are being churned out, no jobs for them. The structure does not allow the economy to grow in order to create jobs. Some states are so indebted that governors who will come in the next 20 years will still be paying loans that were collected years ago.
If we restructure into a true federalism, half of our problems will disappear. Corruption, Boko Haram and other problems flow from the inequity and inequality in the system. Boko Haram and corruption are fall-outs of the unresolved Nigerian question. The reason it is still unresolved is because there is a cabal holding Nigeria hostage. These people, we call them the privileged spoilt folks of Nigeria, in their 20s there was a civil war, so they were captains and majors in the war-front. In their 30s, General Yakubu Gowon made them ministers. At 40, they became heads of state. At 70, they see Nigeria as their property.
This cabal are the people opposing restructuring, not because they have anything to lose, but out of pride. They want Nigeria to remain the way they created it. They refuse to face reality that change is inevitable. They created states, and they want Nigeria to remain the way they created it, even when it's not working.
The cabal, deviously and mischievously, find ways to deceive Nigerians, to distract them from the real issue. The earlier we do that, the better. We have no option than to restructure Nigeria. In fact, the issue has gone beyond whether we want or like to. The issue now is, when and how? Do we do it violently or peacefully? But Nigeria must be restructured in order to move forward.
What informed IYM's recent honour given to Prof. Ben Nwabueze?
The event was the 16th Annual Convention of the IYM. Professor Ben Nwabueze has stood out, as the icon of the Igbo nation at the moment. He has always been an icon. He has been an international figure, a world-acclaimed constitutional lawyer, who has been in the forefront of the drafting of the constitutions of several African countries apart from the Nigerian constitution. He was the founding General-Secretary of Ohanaeze Ndigbo, and led Ohanaeze for 26 years. At 85, he is still very active, labouring for the people. He is the Chairman of the Igbo Leaders of Thought, working hard at that age, and not in very good health, to contribute towards the attainment of the Nigeria of our dreams. We are very proud of him. We celebrated him, and other leaders like Dr. Alex Ekwueme, HRH Prof. Vincent C. Ike, Dr. Ogbonnaya Onu, and the actor John Okafor, popularly known as Mr. Ibu, for their contributions to society.