Abuja – The new Minster of Youth and Sports , Mr Solomon Dalong, has enjoined directors and other staff of the ministry to have passion for sports development in the country.
Dalong gave the charge on Thursday in Abuja while addressing the directors on assumption of duty at the National Stadium.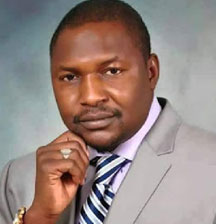 He reminded them the need to show love and care for fellow Nigerians in the spirit of brotherhood.
"Importantly is that every other person should have passion for his country. You must develop that passion for your country because God did not give you alternative country.
"He only gives you one.
" The next one is you must also have love for the next human being around you because his presence around you is not by accident, it is divine.
"A neighbour cannot be your brother; a neighbor is that person who is not having any relationship with you, that is why he is called a neighbour.
"I am saying this against the background of the role sports play in promoting national and international unity and is also a panacea for international security.
"It is now for us that are here to be architects of national peace.
"If we don't have peace then it means that the product from whatever we have manufactured here is what we are seeing reflecting.
" Because it is only sports in Nigeria that unite Nigerians, Even on the day that Nigeria is playing, in places where there are serious conflicts going on there is a natural cease fire, in honour of our players.
"And Nigerians will unite and watch and they will not want to listen to anything contrary to victory.
"If you all agree with me then it means we have a very heavy responsibility to give this country national peace, national unity and national integration.
"In this business, nobody will be small and nobody will be too big. The irony of our perception of leadership is that some are very big, some are small.
"And small people are seen as if they have nothing to contribute except to take orders, to me, it is an error.
"In my thinking, you cannot think better than the person you intend to improve his welfare and condition.
"In leadership I so much want to adopt the reverse pyramid structure, leaning more on the best for the riding, opinions and ideas and then taking decisions so that it can impact positively.
"What do I expect from you the very privilege of the best of the pyramid, they are so special to me, very important to me.
"And that is why my philosophy is that anything you are doing, the success can only be measured with how many people around the bottom of the pyramid that benefits.
"If the percentage is very low then you have failed but if it is high then you have succeeded."
Earlier, the Director-General of the National Sports Commission, Al-Hassan Yakmut, pledged maximum support to the new minister as part of steps to uplift sports in the country.
He described members of the Nigerian Football Association as" very special purpose vehicle individuals for the development of sport in Nigeria.
"We will render to you undiluted, unpolluted service to ensure that you succeed and move sport to the next level."
The directors of the ministry were present as well as the President of the NFF, Mr Amaju Pinnick.