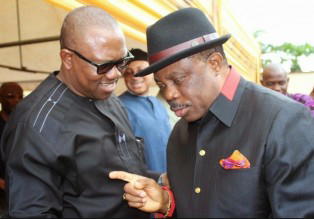 Obi and Obiano
The former Governor of Anambra State, Mr. Peter Obi, has finally broken his silence on the controversy raging over the actual amount he left in the coffers of the state when he left office. His response came via a text message we sent after several unanswered calls.
His reply: "Let me put the records straight concerning the unnecessary controversy over debt and the 75 Billion Naira in investment & cash my government left.  I left office almost two years (over 600 days) ago and I will not comment on the statements of my successor, or his proxies.
"All I can confirm is that we never borrowed from any bank in Nigeria, issued any bonds or owed any certificate for jobs executed when we left office. We handed certified accounts statements. Whatever we said we left is properly documented. Copies of same were made public at an event in Women Development Centre, Awka.
"The Managing Directors of the three banks in which the respective sums were domiciled and the incumbent governor were in attendance. Should it be that the  government has lost or misplaced its own documents, it can approach the banks. I will also make myself available within 48hrs, complete with my own copies of the documents; as I still have them.
"I will not be seen as working against the progress of Anambra State, a state I did everything possible to put on the right track. All I can tell you is that I will earnestly continue praying for my successor to build a better Anambra State for our children.
"My heart bleeds whenever Anambra is on the news for the wrong reasons. I am also earnestly praying for the President of Nigeria to build a better Nigeria. I am presenting Nigeria as a most attractive investment destination in Africa to my class at Cambridge University at 2p.m. today (yesterday)."
It would be recalled that Anambra State government had called a press conference on Saturday and alleged that Obi left a debt of over 100 Billion for his predecessor.
His Media aide, Mr. Valentine Obienyem described the claim as untrue, challenging Anambra State government to publish the contracts and the names of those being owed.
He further called on Association of Anambra Accountants to set up an independent committee to look into Anambra finances as at  March 17th, 2014,  to ascertain the actual amount Obi left in the treasury, insisting that Anambra State is looking for justification for the massive loans they had concluded to take from financial institutions.