By Theodore Opara
The Lagos State Commissioner of Transportation, Dr. Dayo Mobereola has disclosed that the recently completed N30 billion BRT project by the state government was completed within time frame despite the challenges faced during the execution. The Commissioner, who spoke to journalists shortly before the commissioning of the project disclosed that some of the challenges included encroachment into the right of way, managing people simultaneously while doing the construction, among others.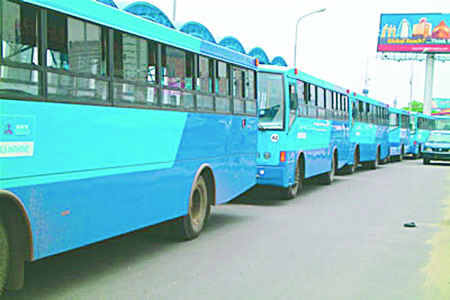 "The right of way was a major challenge we faced. It was encroached upon and we had to retrieve it. Managing the people simultaneously while doing the construction was another challenge and we also learned from the mistakes of the past,"he said. During the period, he said, they tackled the problems head on by meeting with stakeholders.
He said: "We had 10 stakeholders' forum; three before construction work started and seven during the construction project. We were engaging the people at every stage and they were guiding us."
As for the impact on traffic, Dr.  Mobereola, noted that the upgraded BRT scheme would move about 450,000 passengers daily, and will benefit all Lagosians. He said: "The project will benefit all the people of Lagos  and not just the people of Ikorodu alone. It is everybody in the state that will take the BRT buses. The first pilot scheme was from Mile 12 to CMS.
And that section has carried to date almost 350 million passengers," he said.  "And this one, on a daily basis, will carry almost 450,000 passengers. A city with 22 million people needs efficient, reliable, accessible and safe transportation system. This is just an example of what we planned for Lagos State."
Regarding the impact of the project in traffic, he said: "It will improve the traffic situation along that corridor. As more people enter the BRT buses, the road will be freer; we are also doing the engineering on the road, especially at the junctions to increase the capacity of the road and make the way big enough to accommodate more traffic.
"The mobility of the people will be enhanced but priority will be given to public transport, which is a mass carrier for a lot of people. ''We are injecting 450 buses into the BRT scheme along the corridor.
The buses are not LAMATA's and not for Lagos State Government. It is a PPP arrangement. The state government provided the infrastructure, while the buses are run by the private operators. They are running the buses in line with the guidelines from LAMATA.''