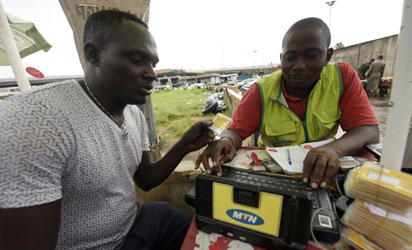 A MTN service provider tries to register a client's SIM card in Lagos, on October 27, 2015. Nigeria's telecommunications regulator has fined South African mobile giant MTN $5.2 billion for missing a deadline to disconnect unregistered SIM cards, the company announced on Monday. The penalty saw shares in Africa's largest telecommunications company crash more than 12 percent to 167 rand on the Johannesburg Stock Exchange, the biggest fall the firm has suffered in a day since November 1998. AFP PHOTO
By Emeka Aginam
While pleading for staggered payment model, MTN has finally bowed to pressure as it has accepted to pay the N1.04 trillion fine slammed on it last week by the telecoms regulatory authority, the Nigerian Communications Commission (NCC).
Accordingly, the telecoms operator was fine for violating its directive on SIM deactivation.
This follows series of meeting held between MTN management team from South Africa and Nigeria with the Vice President, Prof. Yemi Osinbajo.
The telecoms operator which has largest subscriber base in Nigeria, it was gathered, may have agreed to pay the fine to sustain the interest of its telecoms business.
Industry sources who confirmed the new arrangement, disclosed that the federal government is already yielding to the plea, which according to him, was part of the agreement reached at the series of meeting held at the weekend in Nigeria.
"There have been series of meeting at the Presidency between the Vice President Osinbajo and MTN team both from South Africa and the Nigerian arm. MTN wanted a waiver considering their level of investments in the country, but government did not buy the idea of waiver. Instead, I think there will be concession, but certainly not a waiver. At the conclusion of the meeting, the MTN people negotiated on how to stagger the payment. The Presidency is even angry because MTN was a signatory to the regulation, but they are failing to comply with rules.", the source added.
It would be recalled that NCC had said that MTN would not escape the fine, owing to the enormity of its implication to national security.
Although NCC had hinted that the issue is being handled by the federal government, the telecoms authority also noted that MTN would risk withdrawal of its licence if its fails to comply with the fine.
Even with the widespread calls for the intervention of the Office of the National Security Adviser (NSA), on the N1.04 trillion fine, Chief Femi Falana, a Senior Advocate of Nigeria (SAN), had last week called on the NSA not to intervene in the matter, adding that NCC regulation must take its course.
NCC said it had consistently engaged Mobile Network Operators, (MNOs) to strictly adhere to the regulations and its business rules in the registration of their subscribers.
Following several engagements, the Commission had confirmed various cases of violations of the regulations and sanctioned appropriately.