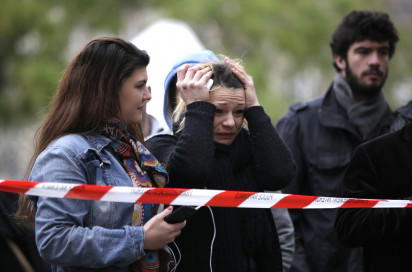 File: A woman reacts as she looks at the flowers and messages left at a rail cordon close to the Bataclan theatre in the 11th district of Paris on November 14, 2015, the day after a series of attack on the city resulting in the deaths of more than 128 individuals. Some 80 people were gunned down at the Bataclan theatre in Paris late November 13, during a concert by the US band Eagles of Death Metal. AFP PHOTO / KENZO TRIBOUILLARD
A jihadist leader in restive Mali has denounced a peace deal signed this year and called for further attacks againstFrance, which helps national forces fight extremists, according to a recording authenticated Monday. In the recording released in October, before Friday's string of deadly attacks in Paris, Ansar Dine leader Iyad Ag Ghaly endorsed the attack on the Charlie Hebdo magazine in the French capital last January. The satirical weekly "got what it deserved", he said.
"We authenticate the cassette. It is Iyad Ag Ghaly who is speaking. As you see in the file, we cannot see his face, but it is his voice," a Malian security source told AFP. Iyad Ag Ghaly, who previously led a Tuareg rebellion in the Sahara and is linked to Al-Qaeda in the Islamic Maghreb(AQIM), criticises rebel groups who in June signed a peace agreement in Algiers with pro-government forces, calling them "secular".
In the 20-minute recording, the Ansar Dine leader accuses these rebels of having sold out blood and soil "by signing theAlgiers agreement that stinks of impiety and treason". His call for jihad is particularly aimed at young people. "This is your day, the Crusader has crossed all bounds," he says, referring in particular to cartoons of the Prophet Mohamed published by Charlie Hebdo.
"Answer this offence with your explosive belts, your remote-controlled charges and your booby-trapped devices," he said in remarks apparently aimed at reviving attacks on Malian soil as well as in the former colonial power, France. After being concentrated in northern Mali's desert territory, jihadist attacks have since the start of year hit the large Sahel nation's centre. Since June, they have also been targeting border regions with Ivory Coast and Burkina Faso.
Long prey to rival armed factions, plagued by drug trafficking and at the mercy of jihadism, Mali's north has struggled for stability since the west African nation gained independence in 1960. In mid-2012 the north fell under the control of jihadist groups linked to Al-Qaeda. They supplanted Tuareg rebels and imposed a brutal interpretation of sharia law on the region, with Bamako reeling from a military coup.
The Islamists were largely ousted from towns by an ongoing French-led military operation launched in January 2013, but they have since launched sporadic attacks on security forces from desert hideouts.