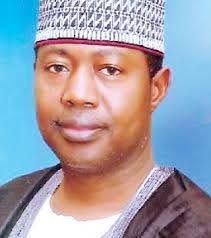 Salawu
By Boluwaji Obahapo
The Governorship candidate of the Labour Party for the November 21 governorship election, Dr. Philip Salawu, has alleged that one of the two leading parties for the election has stock piled arms and ammunition it intends to use to manipulate the election.
Salawu who make the allegation at his campaign office in Lokoja said the party in question has also connived with the Independent National Electoral Commission, INEC, to make the card readers malfunction during the election in order to revert to the manual method to carry out their rigging plan.
Salawu said he and his party is crying out now because all their notification to the security operatives and INEC over the development and purchasing of cards from the electorate have not been given necessary attention.
His words: "We have it on good authority that the party in question has bought heavy weapons and ammunition to be given to their thugs. After accreditation, they (thugs) will shoot guns, scare voters away and thumb print the ballot papers. "This same party has its contact persons in the INEC ICT sections and has made them to work against the Card Readers so that it can malfunction and they will be forced to revert to the manual system. Let the whole world bear us witness now, and not be surprised if the Card Readers malfunction. But Labour Party will not tolerate any rigging. We are watching."
Salahu who also reacted to the allegation that he is planning to step down at the eleventh hour also denounced the rumour of his alliance with the All Progressives Congress, APC to garner votes from the central senatorial axis on ground of ethnic sympathy in order to reduce the strength of the Peoples Democratic Party, PDP in the area.
"How could I step down for anybody when I carry a 'burden' of experience. I've been in the corridor of government for nine years.