Ben Osuji is the Divisional Police Officer, DPO, in charge of Idimu Division. About 7 am, on a particular day, last week,  he, with some of his men, were strategically stationed around  Isheri-Idimu in Alimosho Local Government Area of Lagos State, controlling vehicular movement  and, at the same time, curtailing the now common traffic robbery in the state. Sunday Vanguard, shortly after leaving the road for his office, spoke with him about his experience on the road.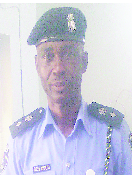 By Olalekan Bilesanmi
What brought out men and officers to be on the road, directing traffic?
There are many factors regarding that action. First of all, we are working on the directive of the state Commissioner of Police who has directed that every Divisional Police Officer, DPO, or Area Commander must unlock the traffic in his area and he has equally directed that he wants officers more on the road than in the office. So, that is why we join our men on the road to ease traffic flow and deal with some other issues that may arise therefrom. In addition to the issue of traffic flow is traffic robbery where hoodlums take advantage of traffic gridlock to attack motorists; this is an act the state command is out to deal with.
That is why most times I go out to join my men to motivate and direct them right there on the field. That is why you saw me in uniform, and at other times, I go out very early in the morning in mufti. Like today (Thursday), I had left for the road in mufti at six o' clock in the morning where me and my men took position in different parts of this axis, because we like to take position before traffic starts building up.  By doing that, it is a lot easier to manage the traffic.
The second factor for being on the road, controlling  traffic is mainly because of the fuel scarcity issue in the country. Many of the fuel stations are not selling and the few of them that have are selling, at least within Isheri-Idimu axis, our people are not patient enough, everybody wants to buy fuel at the same time. By so doing, they block the flow of traffic by queuing up on the main road. And, until the police get there, there won't be orderliness. So, these are some of the issues that gave rise to us being on the road, controlling traffic.
Many motorists, particularly commercial drivers, prone to breaking traffic laws by driving against the traffic,  appear to have overwhelmed the police as nothing seems to have been done to curtail their excesses.
That is not true. We deal with them.  Anytime we come across them because a lot of these commercial drivers are recalcitrant, we impound their vehicles, especially when we discover that the culprit is a habitual law breaker. It is an everyday challenge and we are dealing with it accordingly.
Have you had cause to charge any of them to court? 
Several of them have been charged to court for obstruction, reckless driving. Sometimes when we impound any vehicle for one or two days and we find that the driver is remorseful, we return it to him. His remorse is rewarding to us because that is exactly what we want.
That kind of action will restrain him subsequently from against  traffic. Regarding lasting solution to the menace of the commercial drivers, I will say there isn't any lasting solution to it or to any crime for that matter. We can only apply measures that are  effective to the point that it will reduce to the barest minimum the nuisance they create on the roads. That is why I said that, from time to time, we take measures that will pay  in that circumstance. Continuous enforcement and  enlightenment education is key.
At a point, Diamond Estate axis was notorious for pipeline vandalism. How secure is the axis now?
Since my assumption of duty here, I have not heard of any encounter with pipeline vandals.   Meanwhile, my attention has been drawn to a few places, and I have since visited them.  But it appears no activities is going on there anymore, because we now patrol the place day and night. So we have not recorded any pipeline vandalism in Idimu Division since I came here.