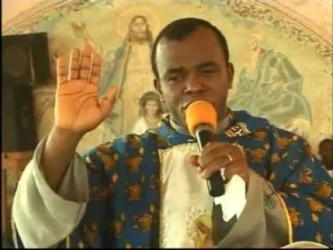 Rev-Father-Mbaka
The Indigenous People of Biafra (IPOB) has reacted to a recent comment credited to Enugu-based fire-brand catholic priest, Rev Father Ejike Mbaka, where he called on the pro-Biafran youths protesting for the immediate release of Radio Biafra Director and Leader of IPOB, Nnamdi Kanu, to go back to their businesses as the protests could lead to their death.
During a sermon at his weekly Adoration Ministry, Mbaka was said to had criticised Biafra supporters who embarked on the massive protests across South-East and South-South states, to demand Kanu's immediate release.
Kanu is still being held in detention by the Department of State Services, despite having been granted bail by the court.
Mbaka had said: "Locking up your shops and disrupting economic activities will not add any naira to your pocket, whatever grievance you have could be resolved through dialogue,'' he said.
However, responding to Mbaka, in a broadcast on Biafra Radio, IPOB denounced him as a compromised priest speaking from both sides of his mouth.
Deputy Leader of IPOB, Uche Mefor, who fired back at the cleric, stressed  that "Biafra is more than money!"
Mefor noted that the youths are protesting against injustice, oppression and subjugation, which is motivating them to seek their freedom.
The deputy leader further wondered why Mbaka who is a priest could not find courage to condemn Nigeria government's extrajudicial detention of Kanu. He also advised him to refute his statement immediately if he was misquoted.
According to Mefor, Biafran youths have seen the truth having been enlightened on the need to restore Biafra, and nothing can stop them from demanding their rights.
Meanwhile, the lawyer of Nnamdi Kanu, Egechukwu Obetta, has recently made a statement, in which he listed his next steps.
According to Obetta, they comprise hosting "a meeting of representatives of all non-governmental organizations in Nigeria, as well as the petitioning the Chief Justice of Nigeria, the National Human Rights Commission, the National Assembly and the Nigeria Bar Association."