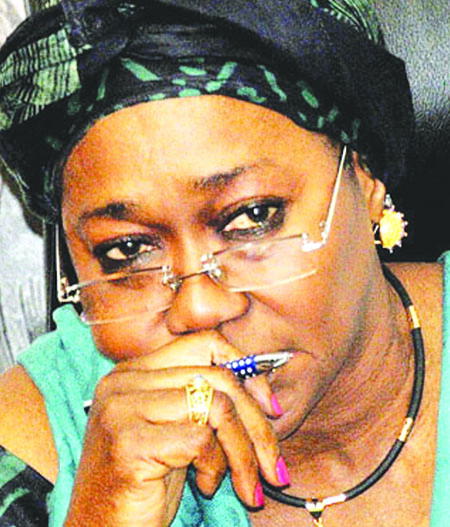 Farida Waziri, EFCC chair
Erstwhile Chairman of the Economic and Financial Crimes Commission (EFCC), Mrs. Farida Waziri, yesterday, revealed that she came under "fierce attacks, slander, blackmail and threats," while trying to end oil-money induced corruption in the country.
Waziri in a statement by her media aide, Ade Williams, said she was happy that there is a new sheriff in town, alluding to the anti-corruption stance of President Muhammadu Buhari.
Williams quoted her as saying so at the Benue State University, Makurdi, during the inauguration of World Bank's Africa Centre of Excellence Project, Centre for Food Technology and Research.
The university was chosen by the World Bank as one of the centres for its 10 Africa Centre of Excellence Project.
While calling for a drastic diversification of the nation's economy from oil through policies that will boost agricultural productivity and reduce corruption, the ex-EFCC boss said long years of over-dependence on oil revenue was one of the driving forces of public and private sector corruption in the country.
Waziri said diversification of the economy would also boost industrial output for the socio-economic development of Nigeria.
She said: "No doubt, our over-dependence on oil revenue has brought us to the point where we are as a nation today. As an anti-corruption czar, I have seen how some of those the nation entrusted with its oil resources in the past helped themselves more than the country.
"With our focus on agriculture, the struggle by political office holders to steal oil fund would diminish while the national wealth will be in the hands of the people instead of a privileged greedy few. We cannot all dig oil wells in our backyard but we can all farm in our backyards. It is time to end oil-money induced corruption in our land by buying into President Buhari's vision and take ownership.
"I have made my contributions in the fight to discourage that and even recovered some of the looted funds in billions of dollars. For daring to do that, I came under fierce attacks, slander, blackmail and threats but by God's grace and long years of experience, I survived all. I am glad today that indeed, there is a new sheriff in town."