By Dayo Johnson
NEMESIS has caught up with a 36 year old cosmetic seller, Daniel Obasi, who also is a serial facebook account hacker after he posed as the Deputy governor of two states in the South West. Before the long hands of the law caught up with him, five  influential Nigerians had fallen prey to his cock and bull stories and were handsomely duped.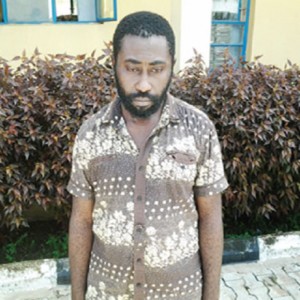 Vanguard gathered that Obasi who hails from Imo State and resides in Port Harcourt, River State hacked into the Facebook accounts of the Ondo and Lagos state deputy governors Alhaji Lasisi Oluboyo and Alhaja Oluranti Idiat Adebule respectively and made good money from their unsuspecting friends and acquitances.
The suspect who was paraded alongside other criminals at the state police headquarters confirmed to Vanguard during an interview that he specialises in hacking to the face book account of prominent Nigerians in a bid to dupe their unsuspecting  friends.
Internetbusiness
Obasi said frustration drove him into the illicit business after his cosmetics business nose dived due to paucity of funds and in a bid to survive he ventured into the Internet business. According to him, he  succeeded in hacking into the account of the two governors and was working on other deputy governors facebook account when detectives traced him to his residence in River state where he was arrested and subsequently detained.
Speaking on his arrest, Obasi who did not deny the crime said frustration forced him into a life of cyber crime. He said he resorted to using the Facebook accounts of the notable personalities because he was sure his victims will easily fall for his tricks.
"I am Daniel from Imo State but live in Port Harcourt. I opened a separate account of Deputy Governors and I used it to chat with people on the net. I did not hack into their accounts; I only opened new accounts on their behalf.   I use it to communicate with people. I have never hacked into their accounts.
"I was doing cosmetic business before. But when my money was stolen inside my shop and there was no money to re-stock my shop, I have no choice than to look for a way to survive that was why I went into cyber crime. I have not been long in this business. I have only clone accounts of Ondo and Lagos States Deputy Governors and they have blocked the accounts now," he explained.
But Police sources said Obasi did not only clone accounts but would hack into the accounts of the deputy governors using a particular software. The police said large sums of money were paid into  his bank accounts. Vanguard gathered from Police detectives that Obasi has been using the cloned accounts to chat with friends, siblings and political associates of the Deputy Governors telling them of  contracts to be given out by their state governments.
"According to him, he would \usually ask the unsuspecting friends of his victim to pay money into a specific accounts to help them facilitate contracts in the offices of the two Deputy governors. Obasi said that he was arrested by detectives from the state command, who pretended to be interested in a contract to be awarded from the office of the deputy governor .
"The detectives presented themselves as representatives of a tailors' union and they said they are interested in a contract that would soon be awarded by the office of the Deputy governor of Ondo state. " They however insisted that they want to pay directly into my account to help facilitate the contract. I did not know that they are police detectives that was how I was arrested "
Obasi who told Vanguard that he was pushed into the business after he was frustrated out of business, did not however deny the offence and attributed the crime to the handiwork of the devil and frustration.
"Frustrations led me into this unholy business after the collapse of my business, I never hacked into the Facebook accounts of these deputy governors, but opened a separate account on their behalf to communicate with people on net and used it to dupe only about five or six persons"
Speaking on how the suspect was arrested, the state Commissioner of Police, Mike Ogbodu explained that Obasi had been using various accounts of Deputy governors to dupe some of his unsuspecting victims before he was nabbed. The police Chief  said that the suspect has confessed to opening clone Facebook accounts on behalf of notable personalities in the country and using them to defraud unsuspecting members of the public.
Juicycontracts
Ogbodu listed some of the Face book account being operated by Obasi to include that of the state Deputy Governor, Alhaji  Oluboyo and his counterpart in Lagos State,Dr Oluranti Idiat Adebule. According to Ogbodu, the suspect usually attracts his victims with juicy contracts promising to help them facilitate it but not without soliciting for money to be dropped into his account.
The Police Chief confirmed that an unspecified sum of money has been deposited into the account of the  internet fraudster. The suspect, according to the Commissioner, of police has made and confessional statement and that detectives are already on the trail of other internet fraudsters. Ogbodu declared that" We will soon track them down. It's a matter of time and we will arraign them in court."