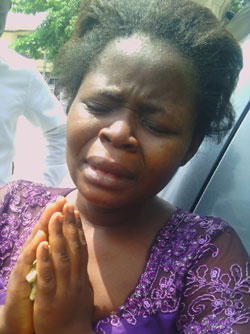 The suspect, Nkechi Obi.
By Evelyn Usman
LAGOS — Plans by a 25-year-old mother of four to sell a one-week-old baby boy, who was stolen in Onitsha, Anambra State, to a barren woman in Lagos, has been botched and the suspect arrested.
It was her inability to breast-feed the baby that set off the alarm, which led to her arrest and subsequent confession.
The suspect, who claimed to be a farmer and an apprentice in Onitsha, said she was on her way to hand over the baby to the buyer at Cele Bus Stop, along the Oshodi/Apapa Express-way, when she was arrested.
Preliminary investigation, as gathered, revealed that the baby was stolen from his biological mother, who fled home on discovering she was pregnant.
Trouble started for the suspect, identified as Nkechi Obi, after the driver of the vehicle she chartered from Asaba, Delta State, became suspicious when he observed that she never breastfed the baby, even though the child cried ceaselessly during the six-hour journey to Lagos.
Not satisfied with her incoherent explanation, the driver was said to have stopped at Oshodi, where he alerted some policemen who subsequently subjected the suspect to interrogation during which it was discovered that the baby was not hers.
Suspect's tale
The suspect claimed that the baby was given to her by her boss, whose identity she gave simply as Ngozi, in Onitsha, to take to a ready buyer in Lagos.
She said: "I was in the shop located at 2 Ourline Street, Onitsha Main Market on Tuesday, when my madam, who I sell clothes for, came and ordered me to go and change into something better, that I was to embark on a journey to Lagos.
"Thereafter, she handed the baby to me and gave me a food flask and baby milk. She only gave me the telephone number of the woman I was to hand the baby over to. The woman in question is barren. I was to meet with her at Cele Bus Stop. The would-be buyer was arrested."
Report had it that the would-be buyer had two female children, but opted to adopt a male child due to pressure from her husband who threatened to marry another woman.
Asked if her husband was aware of her journey to Lagos, Obi who claimed to be an orphan, said she had separated from her husband, who she alleged used her as a baby factory.
'I was baby factory  for my husband'
She said: "I got married aged 16 years to Polycap Eze, who had no child from his wife. I was brought in to bear children for them. After the birth of my fourth child, he drove me out of the house, saying I have fulfilled the purpose for which he married me.
"I moved in with one of my relatives who later introduced me to my madam."
Speaking on her arrest, Lagos State Commissioner of Police, Fatai Owoseni, said when the lady was arrested, she claimed that the baby was hers.
He said: "She claimed at first that her lover abandoned her with the baby. Later, she confessed that her aunt was a co-suspect. Two other persons, who have connection with the sale of the one-week-old baby, were also arrested.
"We have kept the baby in proper custody through the Family Support Unit. Further investigation into the case has taken us to the eastern part of the country where the principal suspect lives.
"But she fled on hearing that we have arrested Nkechi Obi. We will ensure that everyone behind this case is arrested."