Port Harcourt  – Augustine Igbuku, an amateur golfer, on Monday debunked claims by golf enthusiasts that the game was exclusively for prominent personalities.
Igbuku spoke  on the sidelines of a two-day Golf Invitational Tournament held at Rumukurushi Golf Club, Port Harcourt.
Igbuku, who is the Captain of the club, said the game could be played and enjoyed by both young and old, provided such individuals were fit and patient.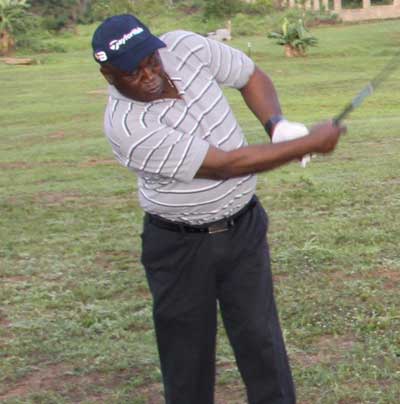 "The game of golf is improving in the country but could be better appreciated, with more sponsorship and awareness.
"Golfing is a great game that promotes integrity, discipline, development and fitness that individuals, corporate organisations and government should promote.
"Through sponsorship, a lot of people in the streets can be engaged meaningfully to reduce insecurity and improve the society in general," he said.
Igbuku noted that golfing was among the cheapest sports to go into when compared with other popular games in the country.
He said that he was optimistic that with adequate sponsorship, talents could be discovered and nurtured to represent the country at major international golf tournaments.
According to him, it is strange that a country which has a population of more than 170 million does not have any one representing it at global golf tournaments.
"Individuals, corporate organisations and government must do the needful to put Nigeria and Africa on the golfing map, especially with the budding talents available.
Gbenga Jegede, another amateur golfer called on governments and private organisations to build more golf courses around the country.
Jegede, the day-one overall winner, said that availability of more courses would improve more participation as was obtainable in some Asian, European and North American countries.
"We just have three golf courses in Port Harcourt and when compared to other countries, where the sport has been used to develop the individuals and the society," he said.
Jegede added that quality golf kits range from N150, 000 to N200, 000 and could last for as long as 10 years.
NAN reports that no fewer than 150 amateur male and female golfers participated at the two-day amateur championship.