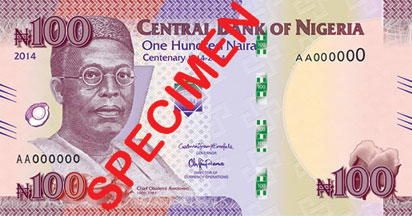 Commemorative N100 Banknote
By Kingsley Fanwo
Students of Kogi State University, Anyigba took-over the Ankpa-Anyigba road to protest the alleged murder of a final year student of the university (names withheld) by a Federal Road Safety Officer along Ankpa road.
Eyewitness account had it that the student was allegedly beaten to death for his failure to bribe the officer.
According to the eyewitness, trouble started when the officer stopped the student and after interrogation, demanded for a bribe of 100 naira. The late student was said to have refused to part with the sum, leading to a heated argument between the duo.
The Road Safety Corp was said to have thereafter descended on the student, leading to the latter's death.
When the news filtered into the campus, thousands of students besieged the Streets and later stormed the Road Safety Office in the town. Vanguard was reliably informed that the officer was whisked away to safety by his colleagues.
When Vanguard visited the University community, bonfires were seen on the road. The police were seen battling to restore order to the town.
Some of the students who spoke to our reporters expressed grief at the death of the final year student, threatening to fight on until justice is done.
When the Sector Commander of the Corps was contacted, he refused to pick his calls nor reply the various messages sent to his mobile lines. However, a Senior Officer in the sector who crave anonymity confirmed the incident.