By Josephine Agbonkhese
An alumnus of the Pan-Atlantic University Enterprise Development Centre, Victoria Folasade Ojebiyi, is a bee-keeper and honey manufacturer who wouldn't give up her hobby-turned-business for anything in the world.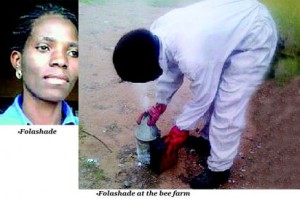 In this interview, the graduate of Marketing from the Polytechnic, Ibadan, who is now CEO of Abeokuta-based Alpha-Cedar Corporate Company, shares the inspiring story of how she ventured into bee-keeping and honey processing, challenges in the business and lots more.
Let us more into your background…
I had my bee-keeping training at the Bee-craft Vocational Institute, Abeokuta, and my entrepreneurial training with the National Directorate of Employment. I was also on scholarship from the Goldman Sach Corporations in the USA to study Entrepreneurship at the Enterprise Development Centre of Pan-Atlantic University, Lagos.
Along the line also, I was also discovered by the Kudirat Initiative for Democracy, KIND, which empowered myself and other women entrepreneurs and handed us over to the Lagos Chamber of Commerce and Industry, LCCI. I happened to be among the first set of mentees at the LCCI.
But why bee-keeping of all businesses?
I have always loved nature and agriculture was something I loved so much. Many a time when I was growing up, I had a little garden at the back of our house and every morning I will sit and imagine how the plants grow and I always appreciate God for His works. At a point, I learnt from a friend that there is a way one can keep bees to get honey, I was so fascinated and I desired that one day I will learn about it.
So, what was the defining moment?
My journey into bee-keeping really began when I got employed at the Federal University of Agriculture, Abeokuta Consult, as the marketing officer to market all their products including honey which they produced and processed. It was the week I resumed that the staff in charge of the honey unit resigned. I had no option than to assist the boy who was assisting him then.
It was also at that time that the consult organized a 3-day workshop on bee-keeping which I was opportune to be part of, and that was where the passion for bee-keeping was unlocked and I longed to have a hive of my own.  Already, I had started my research on honey and bees and what I learnt about the curative and medicinal properties of honey really fascinated me, coupled with the demand for the product. My love for it increased.
I also discovered the various areas in the business, from which revenue could be generated, which could also create employment opportunities and above all add value to the lives of my consumers through the production of good, quality honey and its by-products.
I told the consultant about it and he told me that whenever I am ready, I should get in touch. I started out with three hives and these have increased with time.
What would you highlight as your achievements so far?
Today, what started out as a hobby has been a blessing to me. I will share three of these achievements that I hold so dear to my heart. First and foremost, after I started out, I intended keeping bees as a hobby but as God would have it, it has become a big business today.
I later discovered that this is the business I am cut out for and when I heard that the National Directorate of Employment was having a training for graduates that wanted to start their own business, I applied and was selected.  After the training, I was empowered with some funds as loan which I paid back to start my business and that was when the confidence came. I soon started planning my exit from the Federal University of Agriculture to go into my own business.
The second one was when I won the Goldman Sach scholarship for Women Entrepreneurs in July 2011 to study at the Enterprise Development Centre of Pan-Atlantic University. The third was when I was given a space at the Technology Incubation Centre, TIC, Abeokuta where I am now.
So far, what's your most memorable experience?
There have been so many but there is one I always thank God about. It happened that I was working with the bees one sunny day with my husband in the apiary. We were well kitted-up but I was sweating inside the bee suit, so, I left the hive I was working on to get some fresh air and then I forgot that the bees were still around, so, I removed my veil.
The next thing I saw was bees bombarding me and I was having braids on then, it was not a funny sight, but thank God for my husband who came to my rescue, else, something terrible would have happened and this is one of the risks involved, though it was due to my carelessness.
Aside common drawbacks suffered by entrepreneurs in Nigeria, are there challenges peculiar to bee-keeping?
The major challenges that are peculiar to bee-keeping are bush burning and pilfering by honey robbers. This has is common to bee-keepers and it has been a great pain. I have lost so much to bush burning and honey robbing and I know this is also the plight of most bee-keepers. Another challenge is the policies and subsidies from government affecting inputs to honey production, which includes access to finance, infrastructure, farmland and technologies useful for bee-keeping.
Who or what do you consider your greatest influence?
God has been my greatest influence; He gives the inspiration, courage and strength to continue despite all odds. My husband also has always been there, giving all the support that is humanly possible. Another influence over me is excitement.
I am excited doing what I love doing and I think this has helped me achieve the little successes I have recorded so far, even when I go to people seeking for their assistance and they turn me down, my excitement does not let me down. I remain happy while I explore other means.
From experiences so far, what's your take on life as an entrepreneur?
It takes rugged and determined individuals to weather the storms of entrepreneurship as the business for many years seems to be taking everything away from you without giving anything back in return and this could be frustrating. From statistics, it has been proven that just a third of new businesses survive till the tenth year and those that survive are fond of doing some things that others failed to do. This is a major challenge.
I would say being an entrepreneur is a great privilege especially when you are just coming up. One thing that keeps me going is the passion I have for what I do and with perseverance and hard work I know I will achieve my goal.
…and would you say women are harnessing the opportunities available in your sector?
I have met with a  few women in my sector and they are really trying their best but as you would agree with me, finance to fund this business is a big challenge and I am using this medium to call on well-meaning Nigerians and investors to start looking towards this branch of agriculture to invest and for concerned government agencies to consider giving grants to boost this branch of agriculture in order to encourage more women to go into bee-keeping. Part of my future plans include going to the grassroots to encourage more women to come into the business.