By Soni Daniel
Abuja— Reprieve came the way of two journalists in the employ of Leadership newspapers, yesterday, when a judge discharged and acquitted them on charges of forging a report on a Presidential letterhead paper.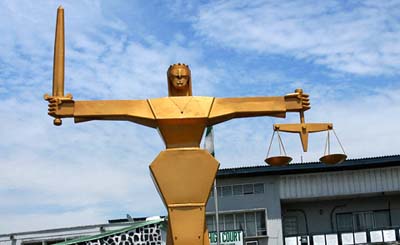 Justice Usman Musale of an Abuja High Court discharged and acquitted the duo of Tony Amokeodo, the Group News Editor and Chibuzor Ukaibe, a political correspondent, who were standing trial for allegedly forging a presidential bromide published in the newspaper on April 3, 2013.
The two men were charged under former President Goodluck Jonathan through the office of his Attorney General, Mohammed Adoke, for the alleged forgery, which the newspaper denied.
But President Muhammadu Buhari wrote the trial judge through the Director of Public Prosecution, on October 5, 2015, asking for the withdrawal of the case, apparently following the sudden death of the police investigator, one CSP Ibrahim Bako.
The government, in a letter signed by the Director of Public Prosecution, Muhammad Diri, and addressed to its lawyer, Chief Adegboyega Awomolo (SAN), directed him to discontinue the case.
On the receipt of the government letter, Justice Musale, said he had no option than to discharge and acquit the journalists since the government had asked for the withdrawal of the charges.
Musale said: "Section 355 ACJA provides that where a complaint at any time before a final order is made in a case, satisfies the court that there are sufficient grounds for permitting him to withdraw his complaint, the court may permit him to withdraw the complaint and shall thereupon acquit the defendant.
"On the basis of this provision and the application, the accused persons are now acquitted and discharged."
At the last adjourned date, Awomolo sought to tender a copy of the letterhead from the Presidency to prove that the one published by the newspaper was forged.
But the lawyer to the journalists, Mr Femi Falana (SAN), raised objection on the grounds that the document sought to be tendered was from the Office of the Chief of Staff to the President and not from the Office of the President, arguing that the witness, Ibrahim Bako, had stated under oath that he got it from the Office of the President.
Justice Usman Musale agreed with Falana and rejected the document.
Earlier, the court had summoned former President Goodluck Jonathan to appear and give evidence at the trial.
Justice Musale issued the summons dated July 15, 2013 to the former President and Commander-in-Chief of the Armed Forces of the Federal Republic of Nigeria, requesting him to come to court with documents to give evidence in the matter.