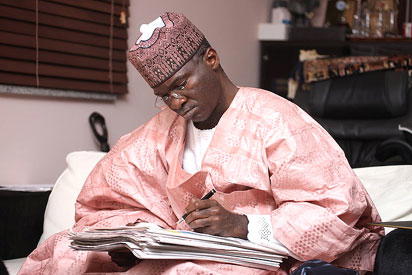 Fashola
By Chioma Obinna
Power, Works and Housing Minister, Mr. Babatunde Fashola, has been called upon to hit the ground running by holistically investigating the remote and immediate causes of epileptic power supply in Nigeria, with a view to resolving them.
President of Good Governance Initiative, GGI, and Managing Director, Blue Diamond Logistics China, Mr. Festus Mbisiogu, who made the call in a statement, said the power sector problem should be given priority by the new minister, if President Buhari's administration must survive the present global economic down-turn occasioned by a fall in oil price.
The GGI president also asked the new Minister of Agriculture and Rural Development, Chief Audu Ogbeh, to fashion out policies that would boost the agric sector and also make it attractive to youths to reduce the wave of unemployment in the country.
Mbisiogu reminded Fashola that the key driver of the economy anywhere in the world remained steady power supply, adding that Nigeria could only move forward when power was available to all and sundry.
Noting that poor power supply was one of the factors hindering rapid industrialisation and growth of small-scale enterprises in the country, Mbisiogu added that there was urgent need to pay more attention to the sector.
According to him, the absence of constant electricity supply is seriously inhibiting the ability of Nigeria to attract foreign industries that heavily depend on electricity.
He said with over 170 million people, Nigeria is generating less than 4000 mega watts of electricity. Which economy in the world can survive under this type of abysmal power sector performance?, he queried
"As big as Nigeria is, she does not have up to 700 factories as many of them are constantly closing down because of inadequate power supply. The Minister should not  allow this to continue.
"The only change Nigerians have continually craved for is the improvement in power supply and reconstruction of all the badly damaged roads. Once this is done, every other thing will take cue on that, he said.
Mbisiogu reminded Fashola about the looming danger ahead if the government fails to overhaul the entire road infrastructure and provide adequate power supply that will re-engineer the ailing industrial sector in Nigeria.
Stressing that agriculture is another sector critical to economic development of Nigeria especially now that the oil price is falling, Mbisiogu said Ogbeh will have to do more in harnessing the potentials embedded in the sector to keep the nation's economy going more so that, it had been predicted that the population of Nigeria will hit over 450 million by 2050.
This prediction is worrisome and should be a concern to us on how food can still be on the tables of many Nigerians at that time. So, the way-out and way forward to food security and employment generation in Nigeria, remains agriculture, he noted.
He therefore, called for massive investment and commitment in the agricultural sector, so that Nigeria can become a global team player in agricultural produce like Vietnam which is the second largest producer of rice in the world.