….Needs 2 million for surgery
By Ugochukwu Alaribe
ABA—FAMILY of Iheanyichukwu Onumaraekwu has cried out to the government and public spirited individuals to save the life of their 14months old child, Miracle, who had been diagnosed with hydrocephalus. Hydrocephalus is a medical condition in which there is an abnormal accumulation of fluid in the brain, causing enlargement of the head.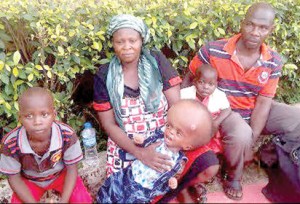 While the first two children of the family who are in their early teens have been living their normal life, the case was not the same for their sibling; Miracle who needs N2m to undergo surgery to correct the abnormal growth as the family places hopes on the surgeons at the University of Nigeria Teaching Hospital, UNTH, Ituku Ozalla, Enugu State to save his life.
Due to Miracle's illness, the first two children of the family have been withdrawn from school. On several occasions, the children have accompanied their parents to various places seeking medical and spiritual help as was the case of their visit to the Abia State Polytechnic play ground when the General Overseer of Deeper, Christian Life Ministry, Pastor Williams Kumuyi visited Aba, for a Combined Service Programme.
Apart from the swollen nature of his head, Miracle is also in pains due to the sores on his head, as he has been bedridden since November 2014 when the sickness was diagnosed. In an interview with South East Voice at the religious programme, where his parents had come to seek for spiritual healing of their baby during Pastor Kumuyi's visit.
Onumaraekwu, who hails from Mbieri, Mbaitoli council area of Imo State, lamented that he has spent all he made from his petty trading business at the Ariaria International Market, Aba Abia State, seeking medical solution since the illness was diagnosed.
According to him, "He (Miracle) was born on September 2, 2014. Three months after his birth, I got to the village and saw his condition, but I never knew it would be this serious, though my wife after his birth noticed that his head was big, but didn't know it was a serious problem.
"One week later, my younger sister called to inform me that my baby's head was developing in an unusual manner. We noticed the problem in December 2014, 3 months after his birth. I went home and took him to Federal Medical Centre, FMC, Owerri, but they were on strike.
But we met a doctor who referred us to the University of Nigeria Teaching Hospital, UNTH, Enugu where he said the baby will be operated upon to enable him live a normal life. There is no money to make the trip. I have been going from one place to another for treatment and that is why we are here today to see if God can use the Man of God (Kumuyi) to heal our son. The child is in pain because of the weight of his head."
Onumaraekwu who lives at Owere-Aba area in Ugwunagbo council area of Abia state, explained he visited many places, including herbal homes seeking cure for his child. "We have gone into his treatment because we had taken him (Miracle) to herbal doctors but yet, there was no solution before we finally met the doctor that suggested that the baby will be operated upon.
I am appealing to the Imo State Governor, Owelle Rochas Okorocha to come to our assistance. The life of this baby is under threat and it will take good hearted Nigerians like the governor and others to come to our rescue. The name of our baby is Miracle and I hope that through kind Nigerians, the significance of the baby's name will be made manifest."