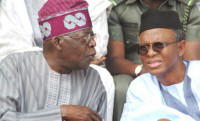 THE APC NATIONAL LEADER , ASIWAJU AHMED TINUBU WITH GOVERNOR NASIRU EL-RUFAI OF KADUNA STATE AT THE FLAG- OFF OF THE 1ST FACE OF KADUNA CABS SHEME AT MURTALA SQUARE, KADUNA ON WEDNESDAY.PHOTO;OLU AJAYI.
… Flags-off 200 new Peugeot, KIA as Kaduna Taxis
By: May Etim/Faith Bature
KADUNA – Former governor of Lagos State and leader of the All Progressives Congress, APC, Asiwaju Bola Ahmed Tinubu has eulogised Governor Nasir El Rufai of Kaduna state for what he said were the great things he was doing for Kaduna state, and joked that El Rufai was no longer, "an accidental public servant"
El Rufai has written an account of his experience in public office in a controversial memoir, titled, "The Accidental Civil Servant".
Asiwaju made the observation Wednesday in Kaduna while flagging-off the first phase of 200 brand new Peugeot and KIA vehicles for the new Kaduna Cabs Scheme, KADCABS.
He said: "Kaduna suddenly is blessed with a performer, a trailblazer and a committed governor.
"This time he is no longer the accidental civil servant, but determined and well groomed Governor whose experience, knowledge and deep understanding of good governance which he has brought to bear in governing Kaduna people.
"I am greatly honoured to be part of this empowerment scheme for the people by the government. This is proactive effort geared at job creation.
"The Kaduna Cab Scheme is a long overdue initiative. And now that a people oriented government in charge, we are beginning to see not just bold ideas, but equally bold moves.
"I have been made to understand that the Kaduna Green Cabs Programme is an initiative to revive taxi services in the state, using modern cars and well-trained owner-drivers. It will also create a new generation of owner-drivers.
Earlier in his address, Governor El-Rufai said, the scheme is not an exercise in political patronage, but a business and a platform being created to empower the industrious and the hard working among Kaduna youth.
He said, aside from the 10% deposit each of the pioneer owner-drivers of the Kaduna Cabs have made, they will pay for the full value of the cars in monthly instalments of 36 months.
Said El Rufai: "We believe that all the major cities in our state deserve a decent taxi cab service. Whether to the airport, from hotels, or on our major roads, it must be possible for a passenger to commute in conditions of comfort and safety.
The Managing Director, Peugeot Automobile Nigeria Ltd, PAN, Mr. Ibrahim Boye, the makers of the Peugeot cars, speaking at the occasion said:
"We're now back fully on stream; and that's why you see the whole place flooded with our vehicles. As you can see, these are the low range of taxi scheme but there're also high range vehicles for executives and the governments.
"PAN has started producing cheaper vehicles for low income earners, imagine today if PAN can offer a car for taxi, we've actually started to address cheaper car market segment, and definitely we're going to get more of the cheaper vehicles into the market.
"We call on Kaduna State Government to patronize PAN Ltd products, if for any reason; Peugeot is located in the state and whatever benefits the company has translates to more employment for the people of state, and also more economic opportunities. So, we expect massive patronage of Peugeot vehicles both from people and the State Government. We hope this is the beginning of lots of more things to come.