By Simon Ebegbulem
BENIN—OVER 6,000 women across the three senatorial districts of Edo State, yesterday, staged a peaceful protest in Benin City, denouncing what they described as an attempt by former Governor Lucky Igbinedion and his father, the Esama of Benin Kingdom, Chief Gabriel Igbinedion, to tarnish the image of the state governor, Mr. Adams Oshiomhole.
The women, wearing white attire described last week's protest by some women in red as "sponsored attack against our governor" and vowed to resist any attempt by the Igbinedion family to rubbish Oshiomhole's name, who they described as a sincere governor who "has provided to us the development which Lucky Igbinedion failed to provide when he was governor."
The women passed through the major streets in Benin and the state House of Assembly before they converged at Government House, where they were addressed by Governor Oshiomhole.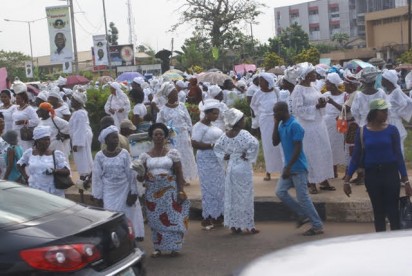 The governor, in his address, expressed his gratitude for their continued support, saying: "Even if everybody is afraid of the Igbinedions, I am not, and I will tell the world how they destroyed Edo State.
"In fact, I laughed when they accused me of not respecting elders. Chief Igbinedion was even the first to take our Oba of Benin to court, he and his son Lucky. Let me tell you people, it is only a coward that will die many times before the actual day of his death. A courageous man can only die ones. They are saying I don't respect elders but it was the same Chief Igbinedion who took the Oba to court, he and his son because of politics.
"Igbinedion owns property  all over the world, the Federal High Court convicted Lucky Igbinedion and his brother for stealing Edo gogernment's money. And when you are a father and two of your children are ex-convicts, will you be talking in public? It is only in Edo State that somebody whose children are convicted will come to speak in public. If people are afraid of the Igbinedions, I am not and I will never be.
"They paid hired writers who are talking rubbish that I don't respect elders. They boasted before the elections that they will sack me after defeating us but today God has sacked and disgraced them. In 2012, Chief Igbinedion wore red and declared in Okada that he will sack me from Government House but today they are in opposition.