The opposition Peoples Democratic Party, PDP, on Monday, saluted the Golden Eaglets for Sunday's world cup victory, describing it as a bold statement by the Nigerian youth against series of ​"​uninspiring and negative utterances and actions​"​ of President Muhammadu Buhari-led All Progressives Congress, APC government that has been de-marketing the nation in the international arena.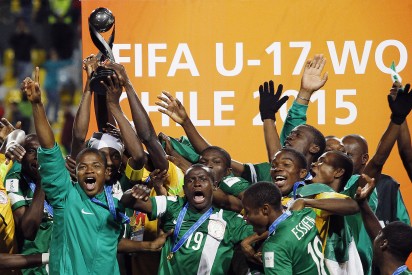 PDP National Publicity Secretary, Olisa Metuh, in a statement said the victory is a clear demonstration that Nigeria, as a country is endowed with enormous talents and potentials waiting to be exhibited to the entire world.
The party said the victory further expresse​d​ the resilient spirit of Nigerians despite a "discouraging" government that has not only shown an obvious inability to chart a clear course of governance and the future of the youth, but also refused to acknowledge the potentials in its citizens.
"The time has come for us to dwell less on our negatives but to showcase the positives, the talents and indeed the natural resources waiting to be harnessed and exhibited for foreign investments and participation in our economy.
"Finally, the PDP states that this victory should be a wake up call on President Muhammadu Buhari to recognize the hardworking spirit of Nigerians, our overflowing talents and well-developed natural endowments," the party said.