By Jackson Ekwugum
Nigeria took centre stage at the United Nations Headquarters in New York on Tuesday, November 24, when Delta State Governor, Dr Ifeanyi Okowa, took the stand to deliver the Keynote Address of the 2015 Africa Industrialisation Day with the theme, "SMEs for Poverty Eradication and Job Creation for Women and Youth." The Conference Room 7 of the UN headquarters was packed full, an indication of the interest which the international community attached to the subject of Africa's industrialisation.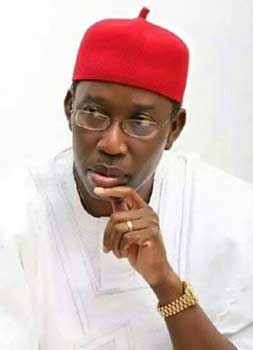 The elite gathering included Mr Mogens Lykketoft, President of the United Nations General Assembly, Tete Antonio, Permanent Observer of the African Union to the United Nations, Mr John Page, Senior Fellow, Global Economy and Development Programme, Brookings Institution, and Mr Vandi Chidi Minah, Permanent Representative of the Republic of Sierra Leone and the Chair of the Africa Group.
In his opening remarks, Mr. Paul Maseli, Director and Representative of UNIDO, organisers of the event, did not mince words in assessing the current state of industrialisation in Africa. "After 25 years of celebrating Africa Industrialization Day," he declared, "and two General Assembly-endorsed Decades of African Industrialization the picture is, unfortunately, all but encouraging. Africa remains the least industrialized continent. It also remains the poorest continent.
"Many reasons have been given for this poor state of affair. They range from the externally imposed structural adjustment programme of the 1990s, to bad policy choices and over reliance on commodity exports. All these had particularly negative effects on technological accumulation, human capital development and manufacturing export performance."
He was emphatic that "fast-tracking industrialisation efforts in Africa in the post-2015 era is particularly imperative to create jobs for broad segments of the population. With almost 200 million people aged between 15 and 24, Africa has the youngest population in the world. And it keeps growing rapidly. If the present trend continues, the continent's labour force will be 1 billion by 2040, making it the largest in the world, surpassing both China and India. If Africa misses this opportunity to industrialise and create sufficient employment opportunities to support decent living conditions it could present a significant risk and threat to social cohesion and political stability in the future."
In a joint statement read by Tete Antonio, the African Union (AU), United Nations Economic Commission for Africa (UNECA) and United Nations Industrial Development Organization observed that "this year's Africa Industrialization Day theme, which is focused on the development of SMEs for Poverty Eradication and Job Creation for women and youth, denotes the importance of focusing on productive drivers of economic growth that ensure inclusive and sustainable development. SME development is among those key productive drivers. Empirical evidence shows that there is a positive correlation between a country's overall level of income and the number of SMEs. Thus SME development with a special focus on women and youth remains a top priority for policy makers, development partners, the private sector as well as academia and NGOs in Africa's quest to achieve sustainable development."
The three organisations reiterated their call for "inclusive and sustainable industrial development through SME development" through "renewed and more intensified actions, for decision-makers to define adequate policies and strategies for SME upgrading, human resources development, innovation and strengthening capacities of responsible institutions that could promote productive and job-rich SMEs development in the context of inclusive, sustainable and equitable economic growth that creates decent jobs with a special focus on women and youth in Africa."
Delivering the keynote address, Governor Okowa noted that the relatively impressive economic growth in African countries in recent years has not been accompanied by improved living conditions of the people. He argued that "Economic growth that does not result in job creation and poverty eradication is like building a house on sand. It can neither stand the test of time nor withstand the headwinds of adversity."
The challenge for African countries, Okowa pointed out, is to "take urgent and drastic measures to ensure their economies are made more resilient to external shocks and, more significantly, that the current growth momentum translates into economic transformation for the continent."
With Africa's population set to double by 2050, "unlocking the economic potential of the continent lies squarely with the development of SMEs as vehicles of industrialisation and, by extension, poverty eradication," the Governor declared. He argued that "the challenge is for African countries to adopt strategic and pragmatic approach to this vital sector of the economy. Economic and industrial policies must have clearly defined goals, the goals must be realistic, and they must contain monitoring and accountability mechanisms to facilitate effective implementation."
In formulating economic policies, Okowa cautioned that the "focus should be on what works, not ideological convictions." He then proceeded to present his administration's modest efforts to create wealth and provide jobs for women and youth.
"Our strategic approach," he said "is a comprehensive programme of youth training, development and empowerment in agricultural enterprises and vocational skills, microcredit to support small and medium scale enterprises, and the creation of a conducive business and investment environment.
"Also we are undertaking concerted measures for the integration of agricultural and agro-industrial development based on our comparative-advantage commodities, particularly cassava, oil palm and aquaculture. Overall, we are responding to our social and economic development challenges through policy thrusts and programme priorities articulated in the S.M.A.R.T Agenda of our administration. The S.M.A.R.T Agenda embodies policy priorities for sustainable social and economic development through job and wealth creation, urban renewal, health and education reforms, agricultural reforms and development of agro-industries and accelerated industrialization, as well as peace building and security."
Governor canvassed the support of the international community for his administration's Job and Wealth Creation Scheme. "In particular," he said "we would leverage financing and technical assistance from international and global agencies, including the United Nations, to enhance performance and sustainability of our Job and Wealth Creation Scheme.
In rounding up his address, the Governor posed three questions to the audience. "In the face of the funding and energy gaps can Africa really compete in a globalised world? What is the impact of globalisation and trade liberalisation on the emerging African economies and their capacities to truly industrialize? What new policies or strategies will Africa need to put in place to stimulate industrialization seeing that they are latecomers to the industrialisation process?
While commending Governor Okowa's admonition that the "focus should be on what works, not ideological convictions," there was consensus among discussants that Africa's potential to compete are hampered by infrastructure deficits, energy shortages, the high cost of credit and the political will to brave the odds.
Ms. Aurelia Calabro, Unit Chief, Agro-Industries Technology Unit, UNIDO, called on African countries to emulate the example of Ethiopia, which she described as "the rising star of Africa." Calabro informed the audience that Ethiopia has witnessed impressive industrialization leading to 10% economic growth in the last five years despite its limited resources. The secrets of their success, she pointed out, lies in their investment in the leather works industry, which has become renowned all over the world. Other African countries, she explained, can learn from Ethiopia's success story in the footwear manufacturing industry by zeroing in on areas where they enjoy comparative advantage.
In addition, she stressed that Africa must urgently overcome the widespread problems of infrastructure, transportation, energy and education through massive investments in these sectors.  Calabro, who has extensive experience in rural entrepreneurship development and relevant field experience in Africa, regretted that African countries don't know how to promote themselves. "You have to brand your country," she declared. "Ethiopia is, for instance, the motherland of coffee but nobody in the world knows that." She advised African countries to identify their unique selling points and market it to the world to attract investments and boost their potentials for growth and industrialization.
In responding to the questions posed by Governor Okowa, Ayodele Odusola, Chief Economist and Head, Regional Bureau for Africa, UNDP, insisted that SMEs in African countries face a comparative disadvantage and therefore cannot compete because of high cost of credit and energy shortages. Describing the operating environment in most African countries as "SME unfriendly," Odusola complained that local enterprises spend about 20-30% of their capital sourcing for alternative source of energy. He was also of the opinion that Governments in the continent are not "getting their policies right" because instead of offering protection to local industries their policies are "focussed on giving multinationals high incentives." Mr Odusola also condemned a situation where foreign businesses are allowed to operate in "areas where the locals have comparative advantage."
Subscribe for latest Videos