By Dapo Akinrefon
Five months after the celebrated announcement of the clean-up of Ogoni land by President Muhammadu Buhari, the youths of Ogoni land have accused the President of playing politics with the exercise.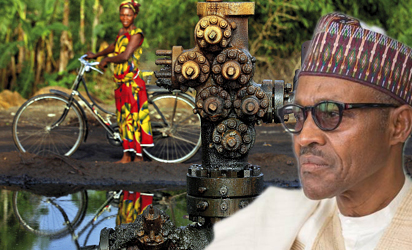 In statement by the president of the National Youth Council of the Ogoni people, Dr Young Nkpah, he accused President Buhari of deceiving Ogoni people by that announcement.
President Buhari had immediately after assumption of office announced his readiness to implement the United Nations Environmental Programme, UNEP report on cleaning of Ogoni land.
However, Dr Nkpah said "after a study of the approach, loud pronouncements and long delays adopted by the government on the globally celebrated implementation, the Ogoni people are not persuaded about the sincerity of the President Muhammadu Buhari-led federal government whose earlier promises were designed to score cheap political points."
He said after the July 28, 2015, consultative meeting held in Abuja and chaired by the immediate past Head of Service, Danladi Kifasi, the federal government has yet to release any funds to kick start the process.
"Since the announcement by President Buhari of immediate action and release of funds, the federal government has seemingly dosed-off on the program without regard to the health hazards and increasing mortality rate resulting from the long polluted Ogoniland.
"The silence by President Buhari's administration has raised strong suspicion among the Ogonis that the federal government in collaboration with SHELL has opted for their usual primitive strategy of divide and rule to set the Ogoni leaders and the people against themselves and also employing gradual frustration of the oil clean-up program to force the collective loyalty of the Ogoni nation to join the ruling party in the country," the statement said.
The youth leader said that the Ogoni struggle had gone beyond being politicized and warned that "any attempt to break the formidable rank of the united Ogoni people will be vehemently resisted by the National Youth Council of the Ogoni people and the entire Ogoni nation."
He called on the President to urgently remove whatever obstacles militating against implementation of the UNEP report in order to sustain the peace in Ogoni land.