By Levinus Nwabughiogu
ABUJA – President Muhammadu Buhari was believed to have left Malta where he participated in the Commonwealth Heads of Government Meeting (CHOGM) for Paris, France Sunday evening to join about 150 other world leaders for the Conference of Parties 21 (COP21) on climate change.
The president is expected present Nigeria's statement at the opening session today before participating in the launching of the International Solar Alliance same day, an initiative of Indian Prime Minister, Narendra Modi.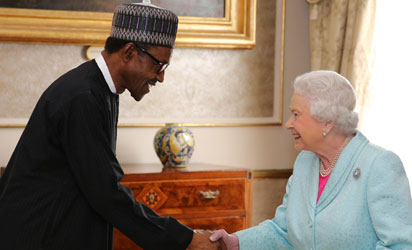 The alliance which is code-named the International Agency for Solar Policy and Application (InSPA) comprised all African nations located within the Tropic of Cancer and Tropic of Capricorn.
On Tuesday, the President would also participate in the summit of the Heads of State and Government of the Lake Chad Basin Commission and Benin Republic which would dwell on Boko Haram and other issues on security just as he would also attend another event of the African Union, AU, tilted "Conference on Climate Change and African Solutions".
Minister of Foreign Affairs, Mr. Geoffrey Onyeama, the Minister of Environment, Mrs. Amina Mohammed and the National Security Adviser, Maj.-Gen. Babagana Monguno (rtd.) would accompany president Buhari to the meetings.
The conference would elapse on December 11.
Also at the conference, Yar'Adua Foundation, a non Governmental Organization on environmental issues would present a documentary to showcase the level of oil pollution and degradations on most cities in Nigeria.
A statement from the foundation on Sunday stated that Nigeria faces a looming climate and environmental crisis that it can no longer afford to ignore.
The statement further read: "Creeping effects of climate change and unchecked environmental degradation in communities across the country, now pose monumental socio-economic, political and sustainable development challenges to the nation.
With the country's population projected to an astronomical increase of 450 million by 2050, pressure on resources pose a real and present danger and risk to the subregion and beyond.
"Narrated by Ken Saro-Wiwa, Jr, the documentary tells the story of environmental threats and unique challenges to security in Nigeria in affected communities. It connects the dots between climate, environmental degradation, and security and serves as an advocacy tool to raise awareness of the defining challenge of our time.
"The first screening will take place at the Climate Action Zone on Wednesday, December 9, 2015 at the CentQuatre, Room 1 from 1pm-1:50pm. The COP21 Africa Pavilion, sponsored by NEPAD and the African Development Bank, will feature the film on Thursday, December 10, 2015 from 9:00am-9:45am."
Meanwhile, French authorities have elevated security level in the cities ahead of the meeting to prevent any eventuality.
The measure followed the recent devastating terror attacks in the capital city.
To this end, vehicular and human traffic has been restricted in and around major roads leading to the conference venue and hotels hosting participating world leaders.