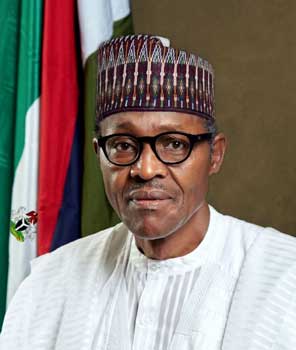 President Muhammadu Buhari
By Emma Ujah, Abuja Bureau Chief
ABUJA —President Muhammadu Buhari has taken a critical step towards cutting the cost of governance with the establishment of the Efficiency Unit, E-UNIT, which will vet all major expenditures of Federal Ministries, Departments and Agencies, MDAs.
The E-UNIT which is to be domiciled in the Federal Ministry of Finance is headed by a Project Leader, Ms Patience Oniha.
The Minister of Finance, Mrs. Kemi Adeosun, who announced this in Abuja, yesterday, explained that the E-UNIT was in line with the current administration's resolve to institutionalize reform policies that would ensure effective management of the nation's economy.
She identified reducing the cost of governance as a major peg upon which President Buhari's economic policies would stand.
She explained: "The principal objective of the Efficiency Unit is to ensure that every government expenditure is necessary and represents the best possible value for money.
"The Efficiency Unit will undertake programmed reviews of all government overhead expenditure with a view to reducing wastage, promoting efficiency and ensuring quantifiable savings for the country. Specifically, the Efficiency Unit will work across all MDAs to identify and eliminate wasteful spending, duplication and other inefficiencies; identify best practices in procurement and financial management and share such knowledge to ensure its adoption.
"Findings of the Efficiency Unit will be formally communicated accordingly and will be enforced through establishment of expenditure guidelines, undertaking follow-up reviews, spot checks and other measures that will ultimately checkmate wastages across all areas of federal government expenditure."
Currently, recurrent expenditure takes the bulk of federal budgets, leaving too little for capital expenditure. In 2014, for instance, recurrent budget was N3.845 trillion as against N1.119 trillion capital budget.
Similarly, in the current fiscal year, while N3. 771 trillion was earmarked for recurrent, capital stood at a mere N722 billion.  Worse still, even the little capital votes are not usually fully implemented by successive administrations.
Recurrent budget includes: non-wage related overhead expenditure such as travel costs, entertainment, events, printing, IT consumables, stationeries and maintenance of assets.
The Director of Press in the Ministry of Finance, Mr. Marshal Gundu, disclosed, that the E-UNIT Supervising Committee would be inaugurated on Monday.
The  committee will be chaired by the Finance Minister and has members drawn from both public and private sector.