Reports from eye-witnesses say embattled Director of Radio Biafra and Leader of the Indigenous People of Biafra, IPOB, Nnamdi Kanu, was finally arraigned on Monday, in an Abuja Magistrate Court.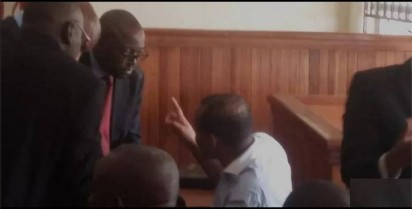 This followed an order last Wednesday by the Court that the Department of State Services (DSS) must produce, the detained Kanu in court today.
Recall that the DSS was expected to produce him in court last week, but failed to do so.
Citizen Edith Otubo who took to Facebook said: "Though he now looks thin and somehow unkempt because he hasn't had a hair cut.
"But I can assure you that everything including everyone is on high tempo but calm, considering the fact that after much rumours and speculations that our director is dead.
"The mantle carrier finally appears on a sky blue packet shirt full of smiles. Innocent Uchenna reporting live from the city of Wuse Zone 2 magistrate court Abuja. Now the court is in session."