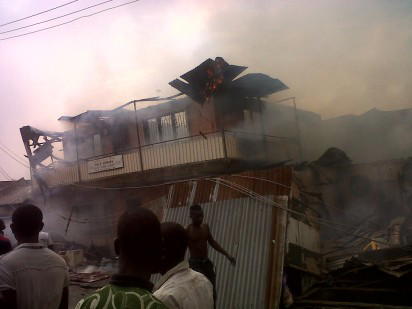 By Ikenna Asomba
In what many have described as a black Tuesday, raging inferno wreaked havoc in about three places in Lagos today.
First to be razed down Tuesday morning were two buildings on No 171 Orodu Street and No 1 Freedom Street, in the popular ghetto city, Ajegunle, in Ajeromi/Ifelodun Local Government Area.
See photo of the Ajegunle fire incident below:
Eye witness accounts said the inferno was caused by black-market fuel dealer.
It was said that the fuel dealer, a woman in her middle-age had contracted the services of one Mr. Israel, a welder, to expand her mini fuel store-house, where she stores her products.
During welding, Israel reportedly forgot to remove a 50 litre filled with fuel inside the mini store-room, causing a spark from the welding electrode to come in contact with fuel, thus leading to a deafening explosion.
Before men of the Lagos State Fire Service could arrive to the community, properties worth millions of naira had already been razed down, even as several people sustained varying degrees of burns, and had been rushed to nearby hospitals.
Tuesday afternoon, Vanguard gathered from eye witness accounts that Prince Ebeano Supermarket, a shopping outlet which offers a wide variety of items such as shawarma, clothes, foodstuff and even hair weave, along Admiralty Way, Lekki Phase 1, Lagos, was engulfed in a raging inferno which lasted several hours.
One citizen Aguiyi via Twitter handle @OrjiOkeOsisi shared video of the Ebeano fire incident.
See video of the Ebeano fire incident below:
The wind direction is sparing Dover Hotel. pic.twitter.com/ars90zobGk

— Aguiyi. (@OrjiOkeOsisi) November 3, 2015
Also, Tuesday evening, citizen Editi Effiòng shared a video on Twitter via @EditiEffiong of the Oko Oba plank market in Ebute Metta area of Lagos, which was engulfed in another raging inferno today. 
The raging inferno, it was gathered threatened to spread into nearby Makoko, a community of stilt houses by the banks of the Lagos Lagoon.
The Oko Oba market is a sprawling timber market on the Lagos lagoon close to the Third Mainland Bridge.
However, the exact casualty from the tripartite fire incidents were yet to be confirmed at the time of filing this report. See video of Oko Oba plank market fire incident below:
Close up aerial view of #MakokoFire a few minutes ago. Fire mostly affecting the timber market (6:00pm, 03/11/2015) pic.twitter.com/eenXUPxtyF
— Editi Effiòng (@EditiEffiong) November 3, 2015