By Ikenna Asomba
Constitutional lawyer and Chairman of The Patriots, Professor Ben Nwabueze (SAN), has admonished pro-Biafra groups under the umbrellas of the Indigenous People of Biafra (IPOB) and the Movement for the Actualization of Sovereign State of Biafra (MASSOB), to have a rethink over their renewed calls for the State of Biafra.
Speaking on Monday, in Lagos, at a press conference to announce the 4th Goddy Jidenma Foundation (GJF) bi-annual Public Lecture, entitled: "Leadership, Responsibility & Good Governance," holding on Wednesday, December 3, at the Nigerian Institute of International Affairs (NIIA), Victoria Island, Lagos, Professor Nwabueze, who blamed the nation's leadership problem, for the renewed agitations for the State of Biafra, however, stated that the answer to their genuine grievances does not lie in secession.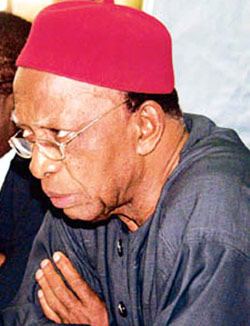 According to Nwabueze, who was flanked by the Principal Solicitor, Zik Chuka Obi & Co and Dr. Ije Jidenma, Executive Secretary, GJF and wife of the late Goddy Jidenma, clamping down on pro-Biafra protesters or sending them to prisons, is not the solution to the problem.
Nwabueze, who is the Chairman, Board of Trustee, GJF, however, opined that the renewed agitation for Biafra, showed the injustices meted against the South-East region under the leadership President Muhammadu Buhari.
Nwabueze said: "How can Nigeria with the kind of experience we had under former President Olusegun Obasanjo, elect another military commander and former head of the Federal Military Government as President. It doesn't make sense. Have we ever sat down to reflect on this. It's amnesia. Nigerians suffer from amnesia, loss of memory. We don't have memory of the past. It's possible the amnesia will repeat itself again after eight years, because President Muhammadu Buhari will go on for another eight years, and another military man will emerge and Nigerians will elect him.
"What we are experiencing now under the current administration shows you that our problem has been leadership. What Nigeria needs is a leader who will guide this country as one, and not one Northern Nigeria.
"Nigeria needs a leader who will regard all the ethnic groups as his constituency. We have 389 ethnic nationalities in Nigeria. How do you coalesce them into one. That's what is called the national question, which is more challenging than corruption. Who can do it? It's not impossible. I believe that it can be done. But not under the present process, where somebody with the kind of Buhari's background and credentials could be elected and get imposed on Nigerians through this so-called electoral process."
According to the octogenarian: "Biafra is certainly not the answer. We have tried it before and it led to a three years civil war. Where has it taken us to? The Igbos are scattered all over the country. You will find them everywhere. South-East youths are again asking for secession. But the question is, what is going to happen to all the Igbos scattered all over the country. This only exposes them to another mass killing.
"Between 1967 to 1970, when the war ended, millions of Igbos were killed. Is that what we want again. What did we achieve by that war? did we achieve Biafra? We didn't. Is there any basis to think that it can be realised this time? Are we more prepared for it now than we were in 1967. Certainly not, we aren't prepared for it."
Speaking further, he said, "However, we must not condemn the people that are agitating. The present administration must look at the root cause of their protests. These people protesting are all young people. Some of them have not been employed for over 10 years after graduating from the university. In my own time, graduate unemployment was unknown. There was nothing like that. The unrest we are witnessing today is caused by this anomaly. Graduate unemployment is part of the basic root of this protest.
"Tied to this, the recent actions of President Buhari contributes to this unrest. Buhari made 24 key appointments, not a single one came from the South-East. What do you expect the youths from that area to feel. They will feel that they have been deprived of that sense of belonging. They will feel that they don't belong to Nigeria. If by the President's actions, he's saying they don't belong to Nigeria, then, they will start agitation for Biafra, where they can belong.
"People may describe this feeling as an illusion, but I must say that the feeling is already there. You can't say to a man who is aggrieved that he has no right to be aggrieved. Address the source of the grievances. Correct your own approach to leadership. Make them feel that they belong. That's the answer. The answer is not clamping them to prisons."
The former Nigerian Secretary of Education, however, advised the leadership of MASSOB and IPOB to change their names, noting that the names they currently bare act as a clog in the wheel of their causes.
His words: "I have said it in the past that there is something wrong with the name that pro-Biafra groups are using for their cause. As the pioneer Secretary-General of Ohanaeze Ndigbo, a position I held for 25 years, I had meetings with the leader of MASSOB, Ralph Uwazurike, where I told him the honest truth, that look, you may have something up, but the name MASSOB, defeats your cause. Therefore, you must change the name.
"How can you be talking about actualisation of a sovereign state within a sovereign state. That's treasonable. The name alone is treasonable. Take for instance if members of MASSOB and the Oodua Peoples Congress (OPC), burn down a police station, while the OPC member will be charged for arson, the MASSOB member will be charged for treason because of the name.
"Although, burning down a police station is not a treasonable offence, but burning down a police station under the name Movement for Actualisation for Sovereign State of Biafra is treasonable. The authorities will charge them for treason with the argument that they are burning down police stations because they want to actualise Biafra.
"You can see that the authorities are charging the leader of IPOB, Nnamdi Kanu and others for treason. Although, I have called for his immediate release and have asked that he comes to see me when he's released. I want to see him. The name should be changed. MASSOB is there, IPOB is also there. So, which is which? The name should be changed," he insisted.
Nwabueze added that "My advice to these youngsters is that they should not plunge Ndigbo into something that we are not prepared for. We are not prepared for another civil war. Ninety percent of the Igbo are not prepared for the civil war yet. I read recently in the papers that there are talks to declare a state of emergency in the South-East, I hope it's not true.
"Ndigbo must not play into the hands of our enemies. It's foolish to play into the hands of your enemies, people who are looking for excuses to solve the so-called Igbo problem. We must not forget that there is still the ill feelings of this Igbo problem. So, these youngsters must be advised that the answer to their genuine grievances does not lie in secession."
Meanwhile,  eminent personalities expected at the 4th Goddy Jidenma Foundation bi-annual Public Lecture are the President of Ndigbo Lagos and  Pro Chancellor/Chairman of Council, Michael Okpara University of Agriculture, Umudike, Abia State, Prof.  Anya O. Anya; former Nigeria's Permanent Representative to the United Nations, Chief Arthur Mbanefo; former Secretary-General, Commonwealth, Chief Emeka Anyaoku, among others.
The Founder/Chief Executive Officer, Centre for Values in Leadership, Professor Pat Utomi will be delivering the lecture, while former Nigeria's High Commissioner to the United Kingdom and Pro-Chancellor, Pan Atlantic University, Dr. Christopher Kolade will chair the event.