By Levinus Nwabughiogu
ABUJA- Barring any changes, the All Progressives Congress, APC would any moment from now unveil Mr. Yahaya Bello as its governorship candidate for Kogi State supplementary polls this Saturday.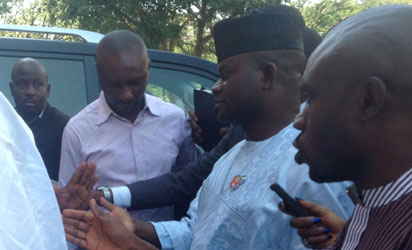 He is to replace the party's former candidate, Abubakar Audu who died on the verge of victory in the main election on November 21.
Bello was the second runner up in the first party's primary election that produced the late Audu as the candidate.
Unconfirmed sources around APC said he is being considered for possible replacement which explains why he had been invited for a meeting with the stakeholders of the party at the secretariat.
Bello arrived the venue at exactly 2:20 pm in a black semi tinted Lexus jeep with registration number BWR 535 GA and went into the building to meet with the national chairman of the party, Chief John Oyegun.
Meanwhile, a group of protesting youth heralded his arrival at the secretariat.
The youths carrying different placards and banners that announced supports Bello were chanting "sai Yahaya Bello", meaning it's Yahaya Bello.
The group however encountered a mild resistance from the security agents who had been on the ground since morning.
Journalists are anxiously waiting to see what would be the outcome of the meeting between Bello and party officials.