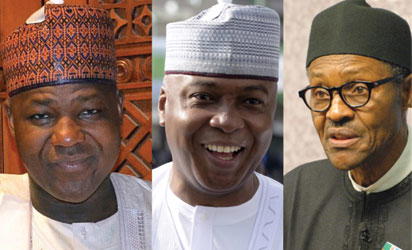 Speaker of the House of Representatives, Hon. Yakubu Dogara; Senate President, Dr. Bukola Saraki and President Muhammadu Buhari
Speaker of the House of Representatives, Yakubu Dogara, has appealed to Nigerians to be more patient with the All Progressives Congress (APC) led government over its campaign promises.
This was contained in a statement issued on Saturday in Abuja by Dogara's Special Adviser on Media and Public Affairs, Mr Turaki Hassan.
Dogara made the appeal at a thanksgiving Church service of Rep. Austine Chukwukere, (APC) member representing Ideato North/Ideato South Federal Constituency of Imo.
The speaker was quoted in the statement as saying that in recent times some Nigerians were becoming worried about the pace at which the present administration is moving.
According to him, there is the need for Nigerians to be more patient with the government.
"The APC government is laying a solid foundation that will last for generations, which requires time, diligence and patience on the part of the people.
"I have interacted with leaders on the platform of the APC at all levels and I have no doubt in my mind as to their commitment to delivering the promised change and transform this country to greatness.
"I will urge Nigerians not to despair, but to be patient with us.
"Be patient with the APC as we are committed to the change agenda we promised the people.
"From the president down to leaders at all levels, everybody is talking about the people and not our personal interest.
"You can see the sincerity and the commitment of our leaders,'' Dogara said.
Dogara commended Gov. Rochas Okorocha of Imo for investing in education to move the state forward.
"If not for education, we can't be here as leaders today.
"Some of the investments are not tangible so people will not see them now, but wealth of nations has moved from those beneath the soil to those you have in your head,'' he said.
While responding, Okorocha was quoted as saying that the time for politics is over as governance must take the centre stage.
He commended the Speaker for uniting the House of Representatives, pointing out that Nigerians were always worried when they hear of disagreements and bickering among lawmakers