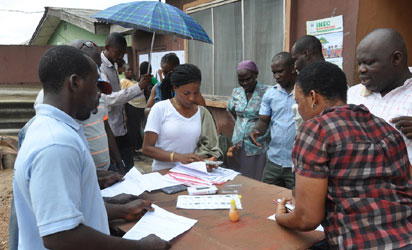 Residents of Sebiotimo street, Agege, checking for their Permanent Voters Cards at ward 5, Agage Local Government in, Lagos state, yesterday [08-11-14]. Photo: Bunmi Azeez
By Ikechukwu Nnochiri
ABUJA—Ahead of the December 5 governorship election in Bayelsa State, Independent National Electoral Commission, INEC, yesterday, said it has concluded plans to hire gun boats to convey sensitive election materials to many parts of the state.
The state Resident Electoral Commissioner, REC, Mr. Baritor Kpagih, who stated this at a strategy meeting with Civil Society Organisations, CSOs, in Abuja, said that the decision of the electoral body to hire gun boats for the election was due to the activities of militants.
He regretted that with barely 24 days to the election, the commission was yet to receive money for the required boats.
He said: "Even though Bayelsa State looks small in terms of the number of local government areas which is only eight, it is the most difficult terrain in the country. The challenge we are facing is overwhelming.
"This is made worse by  the presence of militancy, requiring the use of gun boats rather than motor vehicles to distribute election materials.
"This difficulty not withstanding, sufficient arrangements have been made for the movement of both materials and personnel.
"Our prayer is that we get money early so that we can pay for the gun boats ahead of time. We have been promised that by next week we will get some money to pay for it."