By Samuel Oyadongha & Emem Idio
Yenagoa—The governorship candidate of All Progressives Grand Alliance, APGA, Mr Christopher Enai, has withdrawn from the December 5, governorship poll in Bayelsa State and declared his support for Timipre Sylva of the All Progressives Congress, APC.
Enai is a former chairman of Ekeremor Local Government Area and member of the House of Representatives on the platform of the Peoples Democratic Party, PDP.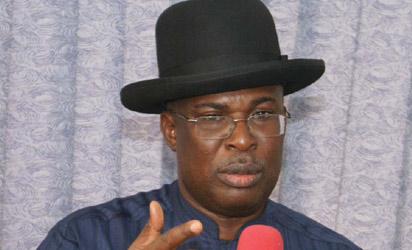 He later defected to the APC to vie for the party's governorship ticket which was won by Sylva, a development that forced him to pitch his tent with APGA where he picked the party's ticket as candidate for the forthcoming poll.
Enai, whose name is on Independent National Electoral Commission, INEC's list as APGA governorship candidate, however, caused a stir when he made a surprised appearance at the formal flag- off of the APC candidate's campaign in Sagbama Local Government Area to support Sylva's governorship ambition.
Enai, who spoke at Ekeremor during the APC rally, said his decision to withdraw from the governorship race as candidate of APGA and join the APC was to support the "change revolution" to bring about the desired change in the state for the betterment of the people.
"My withdrawal is not that I am leaving APGA entirely. I want a situation where we can achieve a new Bayelsa and I believe that APC can do it. My supporting APC is not that I do not have followers while in APGA but my reason is that I want to support my brother, Sylva, because, this is the time to face reality in Bayelsa politics.
"I must say that I am in love with APC, so, I am using this opportunity to call on our people to vote for the real change and for good governance. Of course, I am not the only candidate leaving this party. I know them all but I  am not in the right position to be mentioning them for publication. Right now, out of 20 political parties in the race, about nine have stepped down. This is democracy and you have the right to join any party," he said.