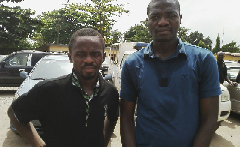 By Esther Onyegbula
An Alfa, identified as Ilia su Azeez, paraded alongside suspected robbers, cultists and impersonators, has revealed that he defrauded a female doctor who came to him for what he described as money ritual.
He alleged that the doctor (names withheld) asked him to do money ritual for her. '' I told her that I don't do money ritual. I was arrested because she said I collected money from her. She said I collected N6 million but I only collected N4 million from her.'' Sunday Vanguard gathered that, on September, 30, 2015, at about 12:30pm, the doctor, a staff member of Federal Neuropsychiatric Hospital, Yaba, Lagos, petitioned the police to allege that unknown persons hypnotized and swindled her of N6.2 million under the pretext of assisting her to heal an ailment.
The case was referred to detectives who swung into action and arrested Azeez and Yusuf Adetunji, who allegedly confessed to the crime, claiming they used the money they collected from the woman to purchase jewellery and other household items. They mentioned other members of their group to include Alhaji Rasak, aka Rosko, Akeem Azeez and Abore.
Suspect's confession
32-year-old Azeez narrated, "I am married with three children. I am from Oyo State. There is a lady that wanted to do money ritual, she came to me and said she wanted me to help her do money ritual.   I told her that I don't do money ritual. She now said I collected money from her. That was why I was arrested. She said I collected N6million but I only collected N4million from her. I wasn't the only one who collected the money; we were two that shared the money. I got only N300,000. The police arrested my younger brother and I while the others escaped. I have made about three people with mental illness well.
"The first day I met her, she told me she wanted a child and then I started doing prayer for her. I got involved with her because she was barren and needed a child. Later, she said she wanted me to do money ritual for her. She came to me for assistance before Ileya. I told her that I don't do money ritual. I am an Alfa. I specialise in helping people to get pregnant. I have been doing this for the past two years. Eventually, some other person helped her to do the money ritual. I wasn't the one that did it."
Alfa's younger brother, Yussuf Adetunji, 30, also arrested, told Sunday Vanguard: '' I am a tailor. I don't know anything about this case. I was arrested because they found the pictures of my brother on my phone. They used my brother to trace me. Some people called me that they were from MTN, and that I had won a package.   When I met them, they took my phone and when they saw Azee's pictures on the phone, they asked me to call him. I called him and he came to my shop where he was arrested. I don't know anything about the fraud.''