By Anayo Okoli
UMUAHIA—REACTIONS have continued to trail the arrest and detention of Nnamdi Kanu, the Director of Radio Biafra which has been broadcasting and hyping the struggle for the emergence of a Republic of Biafra from the Eastern part of Nigeria, a struggle being championed by the Movement for Actualization of Sovereign State of Biafra [MASSOB] and Indigenous People of Biafra, IPOB.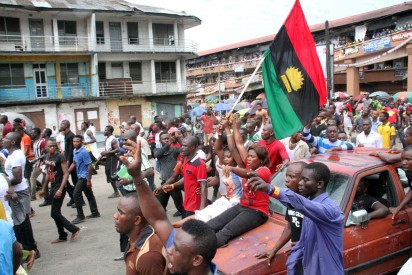 The Federal Government has for long without success been trying to nail the radio station and the promoters.
Members of the MASSOB and IPOB were die-hard listeners of the radio station and adore those behind its operation.
So when the news of the arrest of the main man behind Radio Biafra, Nnamdi Kanu broke, members of IPOB and MASSOB spontaneously trooped to the streets and embarked on protests in some parts of the Eastern part of the country, notably in Anambra, Abia, Imo, Rivers and Delta States with security operatives chasing after them.
In Umuahia, the capital of Abia State, a group of women who gathered to embark on demonstration were instantly dispersed by the police with teargas with some of them claiming to have lost their handsets.
But government officials in the State refused to be drawn into the matter. An aide of Governor Okezie Ikpeazu who pleaded anonymity said that the government was not aware of any protest and pleaded that the government be left out of the controversy to face governance which he said Ikpeazu was settling down to do.
But Comrade Uchenna Madu, the spokesman for a faction of MASSOB swiftly condemned what he called "the cowardly arrest and detention of Nnamdi Kanu, director of radio Biafra.
In a statement, the MASSOB factional spokesman said "we see the arrest as part of the price to pay for our non violence struggle. No agitation is complete without arrest, detention and prosecution. It shapes the minds of activists, drawing sympathy from internal and external observers; it also shows that Nnamdi Kanu and
Radio Biafra have become a factor of reckoning in Nigeria.
"The arrest and detention of Nnamdi Kanu by DSS will assist immensely in reviving the consciousness and sympathy for Biafra actualization in higher dimension which was temporarily halted by Ralph Uwazuruike's deviation and lust for wealth. This singular arrest will cause more diplomatic harm for Nigeria image than good.
"Before Nnamdi Kanu's arrest, he has succeeded in rooting the Biafra struggle in about 78 countries including Biafra land through Radio Biafra, international tour and secret diplomatic build-up. MASSOB warns government to quickly release Nnamdi Kanu now or face an eruption of Biafra world wide demonstration and protest which will endanger the already battered image of Nigeria before the International communities".