By Emma Amaize
ASABA—CHIEF Press Secretary to the Delta State Governor, Mr. Charles Aniagwu, said his boss, Senator Ifeanyi Okowa, has been working quietly since he assumed office, five months ago, and had transformed many ramshackle institutions without making noise about them. Aniagwu, who tried to deconstruct Okowa's style of governance, which has so far confounded critics, said those who want him to throw money to them would wait for a longer time because "the man is not a Father Christmas."
Surprise stopovers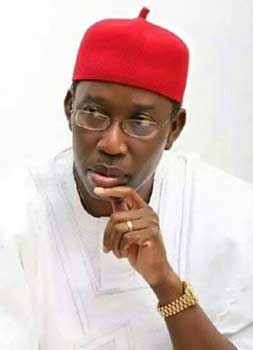 He said, "Almost every week, Okowa is in touch with the grassroots, he visits people, if certain things are happening in the community; he is there, irrespective of the class of that person, once he has the time. He meets you and discusses matters affecting development of your area and state."
"The same also goes for inspection of projects; he goes round unannounced, the governor does not just give a contract and allows you to run as if you are on your own. He visits to ensure that you are not only working, but also working according to specification and giving value to the Delta people, who own the money," he said.
New lease of life
According to him, "In just  four and half months (read five months), if you go to the Technical College at Ofagbe in the Delta South senatorial district of the state, it is wearing an entirely new look, very practical, it is something you can see, something you can touch. Leave Ofagbe and proceed to Sapele, that is Delta Central senatorial district, the Technical school there is wearing a completely new look."
"If you leave Sapele and you are coming to Agbor in the North senatorial district, which shows you the triangle in the state, it is also adorning a novel look. If you leave there and you proceed to Abavo, you will see that the General Hospital, Abavo, also in the North senatorial district is also spotting novel appearance, same thing with Patani General Hospital, Patani in the southern flank.
"Let me make it clear, we did not lay the foundation stone for these projects I am mentioning to you, so we are not claiming to do what we did not do, but in terms of giving life to them, there were more or less moribund. Like the technical schools, there were more or less no longer in existence, you go there, you see bushes and you ask the individuals in the schools, they tell you no equipment to learn," he asserted.
His words, "However, today, the principals come to the office not to look at trees, but they come beholding that many students will soon start to come because they now have schools that look like a mini-university."
New look Kefas road
Aniagwu added, "If you also travel to Oleh in the South senatorial district, there is a street called Kefas road, it is about 2.1 km, it has changed and government has constructed it with proper drainage on both sides of the road. If you also go to Delta State University, Oleh campus, where you have the Engineering and Law departments, so many things have changed there. We have not finished constructing it, we did not lay the foundation but we are increasing the speed of construction on these projects."
People's gov
He asserted, "If you go to Sapele Market, we did not lay the foundation, but what have we done, we have been able to fast track the process of bringing that market to fruition. When you go there, you will see the level of work done in the last few months. Even when he went for inspection at Sapele, the people poured praises on the governor, I am not talking about crowd paid to come and line up on the road."
"Every where Okowa goes, you see people coming out to welcome him as if we were  still doing campaign because they have come to appreciate the fact that somebody is giving value for the money that hitherto they do not know how it goes.
On track to provide 6,000 jobs
"On employment, you have heard about the Skills Training and Entrepreneurship Programme, STEP, and Youth Agricultural Entrepreneurship Programme, YAGEP, Not long ago, the state government did assist the fish farmers in Camp 74 because of the flood that ravaged their fish farms. Over 230 farmers got N150, 000 each to assist them and empowerment of the people under the SMART agenda of the government is going on.
"Now the promise is to create 6,000 new jobs every six months and as part of the creation of these jobs, we had 1,345 at the inauguration stage, young Deltans enrolled in this programme at Songhai farm in Amukpe. Since then, different groups and batches have also gone back; the programme involved so many areas, welding, tailoring and all that. The good thing about it is that you not only learn the skill, government provides starter packs for you to begin to fend for yourselves but be an employer of labour," he excitedly said.
'CPS, what do you mean'
Commenting on reports that Commissioners being hamstrung in the present regime, he said, "I do not know what you mean by being hamstrung, but it is just like asking somebody to defend what he needs money for.  It is not a question of saying that you have N300 million for capital projects, then you begin to do Christmas with it, the money is your ministry's budget, yes, but when you want to spend it, you should come and justify what the money is for.
"Even in my office, if I need money to do A, B and C, beyond just making the request, just that I do not have the files here, I would have shown you the governor's minute, where he asked: 'CPS, what do you mean.' "The reason why he is asking you is not that he does not want you to have the money, but for you to defend that you indeed require the money because he also monitors your progress," he said.
Begins work 8.00 am, retires 12.00 am
According to him, "He is not a governor, who will just give directive and then go and sleep. As we speak if you come here sometimes 12.00 am, you will see Okowa in the office. He comes to the office as early as 8.00 am; he is in the chapel where we pray for 30 minutes to ask God to give us direction. From 8.30 am when we leave the chapel, the man goes straight to his office; he will be in office until about 5.00 pm when he will ask for food."
"He is not a governor, who is not in charge because if you say he is a chief executive, he should be able to know what is happening in Ministry A, B and C.  As I am talking to you, if you meet Okowa, just like if you also meet the Commissioner in the Ministry of Health, he will not tell you wait, let me ask the Commissioner for Health, he knows what is happening and will tell you.  He is not a governor that will sit down and does not know what is happening in his government.
"If you meet him tomorrow and ask him what happened yesterday about this YAGEP programme, he will tell you what happened and because the commissioners know that he is a man, who is always very thorough, they themselves have started to benefit from it, it is already becoming infectious, everybody writing memo to him knows that," he asserted.
He underlines wrong grammar
Aniagwu said, "He will read every line, you will see him putting red biro, even if it is one kind of grammatical error, he will circle it for you. No matter the volume of memo you write, the man reads from beginning to the end to know whether you have been able to justify the funds that you have put in the bottom of your letter.  In a nutshell, no commissioner, no director general, no aide is being arm twisted, what Okowa is saying is let us be prudent to justify the spending of the money that belongs to Deltans."
Okowa not Father Christmas
Aniagwu stated, " So, if anybody is crying that the man is not a Father Christmas, well, they would have to cry more for God to give them more tears to shed because Okowa is not going to throw money on the streets and at the end of the day, some big men will take what belong to the poor. "The target and focus of this administration is prosperity for all Deltans, which means even if you are in the creeks, you deserve as much as the big man that is in the city."